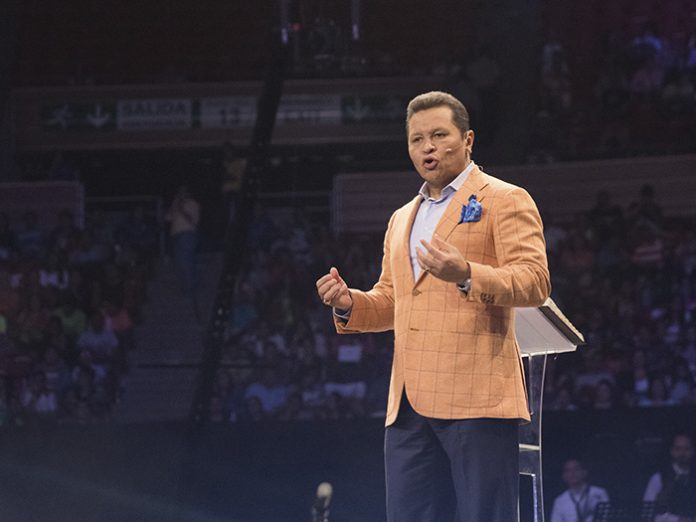 Tasked with bringing the supernatural power of God to this generation of worshippers, King Jesus International Ministry was founded by Apostle Guillermo Maldonado and his wife Prophet Ana Maldonado. Today, the ministry has a global reach that extends throughout the Americas, Europe, Asia, the Middle East, and Africa. To ensure their message is delivered clearly, church leaders rely on the clarity and natural sonic performance of E6 Earset and B3 Lavalier microphones from the catalog of Menlo Park, CA-based Countryman Associates. Edward Puerta is the Director of Production and Engineering for King Jesus International Ministry. He is responsible for all production and the related technical disciplines at King Jesus Ministry facilities, including a 6000-person sanctuary, a 14,000-square foot TV studio, a University, and more.
Additionally, he serves as the live event producer for all of Apostle Maldonado's national and international events, which can range from small arenas for 2,000 people to outdoor, open fields with greater than one million people in attendance at any given time. Edward discussed his fondness for Countryman microphones and provided insight to their use within the organisation. "We own 20 Countryman E6 Earsets along with 6 Countryman B3 Lavaliers," Edward reported. "On a weekly basis, the Senior Pastor and founder of King Jesus Ministry, Apostle Guillermo Maldonado, is the primary user of the Countryman E6. On a monthly basis, the organisation uses the other Countryman earsets for theatrical productions here at the home church in addition to them being used by the Campus Pastors at our various churches throughout the state. Additionally, when we invite any of our special guests to speak in one of our church services, they are fitted with one of the Countryman earsets."
When asked about those features that make the Countryman E6 Earset mic so well-suited to the church's use, Edward offered the following thoughts, "The Countryman E6 is the microphone of choice for King Jesus Ministry because of its audio quality, comfort, and durability. In our high-energy events, we have large stages that require us to have front row wedges, a rear row of wedges (pointing downstage at the speaker), and a stereo line-array sidefill with sub woofers. With all that energy focused at the talent, it's great that we can achieve a very stable and reliable frequency response from the microphone with plenty of gain before feedback. Sometimes the Pastor will speak 12-15 hours over a weekend. These microphones enable him to be very comfortable, so as not to strain his voice or be distracted."
"I can't overemphasise the importance of comfort," Edward added. "Apostle Maldonado is a very active speaker—meaning there is a lot of running, jumping, shouting and frequent demonstrations during his time on stage. With the Countryman E6, he can do this without feeling hindered by the microphone. Even with all this motion, the microphone always works, it always sounds great, and never fails."
For an operation of this magnitude, quality customer and technical support services are crucial. In this regard, Edward gives Countryman Associates high marks. "The Countryman team has been really responsive whenever we've called," he said. "Because of the company's excellent quality control, we've never had to call to get a microphone swapped out or exchanged. The Countryman staff are always a pleasure to work with."
According to Edward, Countryman microphones have been a production staple of the church for over a decade. "We started using the E6 microphone 10 years ago as a 'test' on a Sunday evening service," he recalled. "After speaking with the Pastor and getting some feedback from him, we decided to test the earset again the following week. Ten years and millions of people later, I think it's fair to say that the Countryman E6 microphone more than passed the test!"
Before turning his attention back to a variety of forthcoming production tasks, Edward offered these final thoughts regarding his experience with Countryman microphones, "Our leadership team loves the Countryman E6 Earsets and we truly don't leave home without them. And while we use the E6 microphones more than we do our B3 Lavaliers, it's important to note that they too, have performed equally well. So far, Countryman microphones have travelled with us to more than 50 nations and every continent on Earth, except for Antarctica. The combination of our Countryman microphones, a good sound system, and our very capable and professional audio team makes speaking a great experience."
To learn more about King Jesus International Ministry, visit them online at https://www.kingjesusministry.org/.
About Countryman Associates
For more than 30 years, Countryman has focused on developing microphones and accessories that deliver maximum gain before feedback, with the highest possible rejection of wind, vibration, interference, and other unwanted sounds. The result is warm, clear vocals in speaking and singing applications, delivering natural audio reinforcement that requires almost no attention from the sound engineer or the performer.
For additional information about Countryman Associates, visit the company online at www.countryman.com.