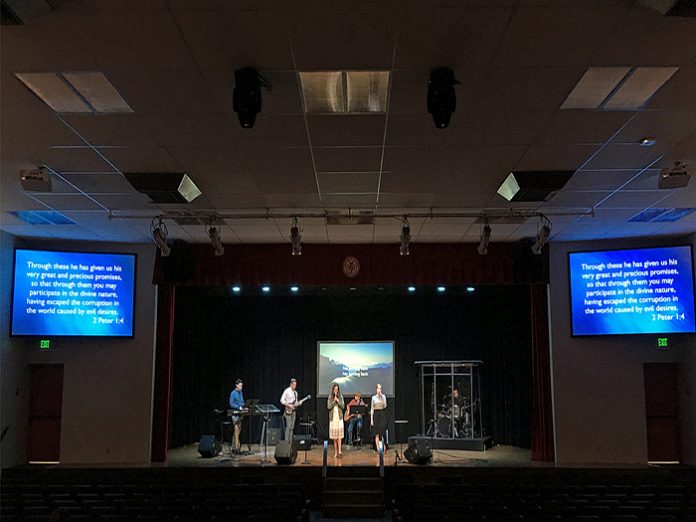 Greater Collegedale's auditorium looked for clear, colourful visuals that inspire and motivate are crucial. To address these requirements, projection technology from Rancho Santa Margarita, CA-based Eiki International was recently deployed.
Creative Sound and Lighting Solutions of Cape Coral, Florida, an AVL design/build firm serving houses of worship, school systems, entertainment parks, and a variety of performance halls, was recently contracted to design and install a new projector setup for the auditorium. Rob Robinson, co-owner of the company, is actively involved in all aspects of its operation, including system design and implementation. After consulting with Collegedale Academy management, Rob elected to install two Eiki EK-510U 7,000 ANSI Lumens WUXGA 3LCD projectors. He discussed the project and his reasons for selecting Eiki.
"Located in the high school building, Collegedale Academy's auditorium is roughly 20-feet high, 60-feet wide, by 80-feet deep and the space sits 490 people," Rob explained. "In order to ensure those in attendance could clearly see the content being displayed, we elected to place the two screens, one on each side of the stage area at the outer edge of the proscenium—angled inward slightly to increase visibility. The Eiki EK-510U projectors are outfitted with the standard lens and are suspended using 1.5-inch steel pipe rigged from uni-strut in the drop ceiling."
"Each screen was custom made by The Screen Works of Chicago, IL.," Rob added. "They were manufactured to our exact overall specifications, roughly measuring 10 x 6.25 feet in size. For delivery of content, we selected ProPresenter from Renewed Vision, LLC., which is very popular for use in churches, schools, business presentations, and concerts venues."
When queried about those attributes that made the Eiki EK-510U projectors the ideal choice for this project, Rob pointed to the projectors' brightness and their Keystone correction capabilities.
"The Eiki EK-510U delivers exceptional image brightness and contrast, so the content projected onto the screen 'pops' just like it does on a high-quality TV. The images from these projectors are very natural and clear, so they really attract one's eye. Another critical consideration of a projector's image quality is its ability to correct the picture when the projector is aligned non-perpendicularly to the screen, or when the projection screen has an angled surface. When this occurs, it's not uncommon for portions of the projected image to be disproportionate. Because of the generous amount of Keystone correction built into the EK-510U's software, we saved quite a bit of time not having to move the mount to another ceiling tile in order to achieve the best quality image."
Quality support services are essential to AV integrators because, if questions arise, answers are needed expediently so as not to delay the project. In this regard, Robin rates Eiki best in class. "On this project, the Eiki EK-510U's operation was very intuitive, so I honestly didn't require support," he said. "Not every project goes according to plan, however. With that said, my experience with Eiki support has always been positive. The company is very responsive to its customers."
Reflecting on the completed project, Rob offered these parting comments, "This was a very large project that involved both audio and video. We began in mid-May and completed the upgrade by the end of the month. Since that time, the new Eiki projectors have seen regular use and our client tells us they are very pleased with the results. The image quality from the EK-510U is bright, clear, and vivid. Whether it's a lecture or a worship service, these projectors make everything that much more engaging. Thanks in part to the Eiki projectors, this project has been a win – win for everyone involved."