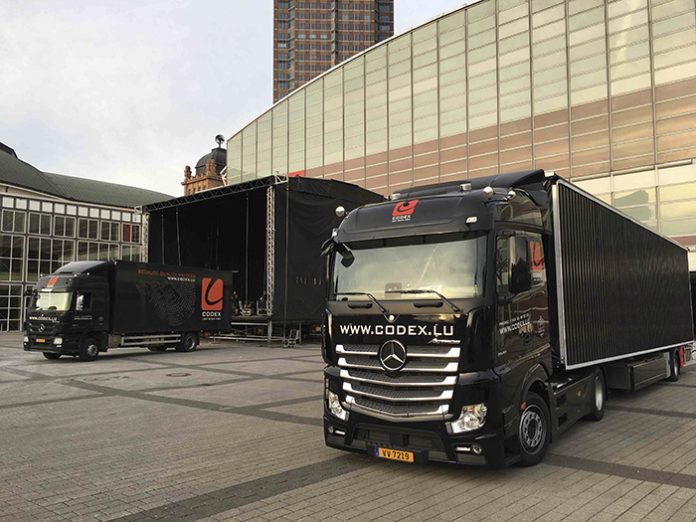 With a continued focus on providing customers with superior service and high-quality products, SIXTY82, 'The New Original' manufacturer of next-generation trussing and staging systems, has entered into an exclusive distribution agreement with Codex Events.
With immediate effect, Codex will be SIXTY82´s exclusive partner responsible for the distribution of the full SIXTY82 product range in Luxembourg, which enables, SIXTY82 to guarantee full distribution coverage to its Luxembourg customers.
"We look forward to working with the company of Codex and its reputation, and our partnership will help meet increased local demand for technical know-how from experienced people," said SIXTY82 Executive Account Manager, Date Jonkman. "We believe that Codex is uniquely positioned to further develop our existing customer base and that with their market presence and sales support network, together we can make a real impact," explained SIXTY82 CEO, Fokko Smeding.
The agreement will enable both companies to cater to the growing demand for high-quality trussing and staging products and solutions. With their wide product offerings, knowledge of the market and focus on local and technical service, Codex is a real asset to the distribution network of SIXTY82.
As Patrick Risch, CEO of Codex, commented: "Together with the team we have unanimously chosen SIXTY82 as our exclusive trussing and staging brand because they deliver unrivalled quality and top-class support. In addition to the strong points of know-how, flexibility, and an extensive engineering department, SIXTY82 brings innovations which are trend-setting."
SIXTY82 is a British, Dutch and French alliance of innovative industry leaders in the design and manufacture of trussing and staging systems. The team brings together over 100 years of experience in the entertainment industry, enabling the company to provide the growing demand for craftsmanship and technical know-how.
These pioneers and visionaries have had leading roles in the development of boundless innovations that have been framed in its market area. SIXTY82 is committed to the continuation of innovative means of improving product and service, driven by a passion for their craft, to ensure their customers can continue to build incredible stuff.
Headquartered in Drachten, SIXTY82 has every component required to change the way that lightweight structural systems are used. With their growing international network of carefully selected distributors, they guarantee full distribution coverage to its customers.
SIXTY82's driving force is passion combined with the simplicity of purpose which that engenders, to ensure SIXTY82 delivers a product and a service unrivalled in experience, innovation and understanding. Due to the matching values of Codex, both companies predict a great future for this partnership.