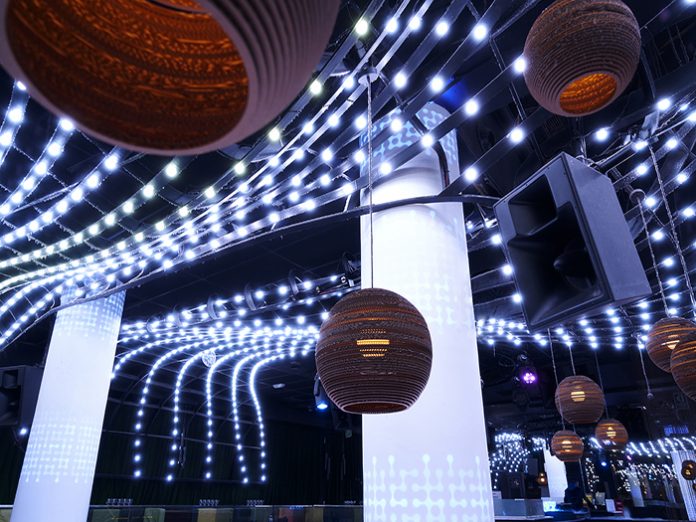 A total of 50 CLF Lighting Yara fixtures have been installed on the inside base of the arcs of Valencia's iconic Umbracle Club. HFS Salamandra purchased the equipment from Proluz, CLF's exclusive distributor for the Spanish market.
The company recently purchased 12 CLF Lighting Aorun moving heads from Proluz for one of their other clubs and were blown away by the quality; testing other fixtures for Umbracle Club but again, were straight away convinced by the quality of CLF Lighting.
12 BEAM 6 also from CLF Lighting were used to replace some old fixtures on the dancefloor. The change is quite amazing and it is quite incredible how much power and light is released from such a small compact fixture. The rotatable lens of the Beam 6 provides a widely kaleidoscopic effect, which fills the complete dancefloor area.
Being one of Valencia's most popular spots it was important to not compromise on quality. The venue also hosts many corporate events and it is important to deliver premium quality and to light the place keeping with the corporate identity. CLF Lighting is a Dutch brand which develops high-quality lighting fixtures for live entertainment, theatre, television and corporate events. The products are well-thought, unique, distinctive and designed to fulfil specific demand in different markets.
MYA is also installed with Lynx Pro Audio. The club has three different rooms with a capacity of 2000 people and in each one of the different music styles are offered: in the main room EDM music predominates, in the lobby you can hear Latin rhythms, and in the "BEATS room" hip-hop.
Lynx Pro Audio has just been installed in the BEATS room, featuring eight DS-12A horn loaded, point source speakers and 12 Lynx Pro Audio DS-18S subwoofers, all in a discreet black colour, in perfect harmony with the lights and design of the venue. The DS series is specially designed for nightclubs and discos, offering a unique experience thanks to the high power of its coupled speaker and subwoofers.
DSX and HPX series amplifiers have been used to power the DS, these amps include the latest technology in audio design and provides a first-class sound quality for the entire venue. Specifically, two amplifiers have been used: HPX-12000 and a DSX-1500, which have a fully configurable digital signal processor to optimize the sound equipment.
In addition, an ARK-7048 processor that allows the use of high precision filters with outstanding sound quality and clarity has been used to control the system.