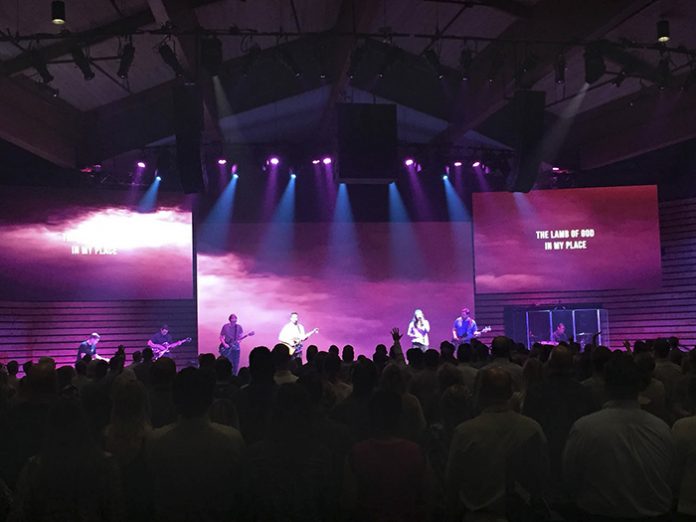 Founded by Senior Pastor Todd Wagner, Watermark Community Church has rapidly grown to become one of the fifty largest churches in the United States. Over 11,000 congregants attend Watermark services every week. Although most attend the church's main Dallas campus, there is plenty of demand in the greater Dallas metro area to warrant satellite campuses. Currently, three satellites in various stages of development – Plano, Fort Worth and Frisco – extend Watermark's reach. With an office in Dallas, national integration firm Clair Solutions installed the AVL systems in the main campus and the Plano satellite. The success of these projects earned Clair Solutions the job at the next satellite in line: Fort Worth, Texas.
"Watermark Community Church has been a client of Clair Solutions for fifteen years. It's a long history," explained Mike Mason, regional manager at Clair Solutions' Dallas office. "The relationship started at Watermark's main campus, where we collaborated closely with the system designers at Idibri (formerly Acoustic Dimensions) to build a high-value system that would reliably support Watermark's approach. The success of that system inspired another three-way collaboration between Clair Solutions, Idibri, and Watermark at their Plano satellite, and the success of the Plano system led us to the latest three-way collaboration at the Fort Worth satellite."
The Fort Worth satellite started in an old vaudeville theatre, with complete load-in and load-out of a temporary AVL system every weekend. All that exertion and trouble was amply rewarded by a steadily growing congregation until Watermark made the determination that a permanent Fort Worth sanctuary was justified. "They bought an old Church of Christ facility in Fort Worth," Mike continued. "It was a full gut rehab – down to bare walls, but it was still more challenging than new construction because we had to work within the constraints of the existing layout to realize their vision."
"We had input into the design," Mike said. "Especially since this was a remodel, we helped decide issues of infrastructure: where should lines run? How should we get a signal from point A to point B? How should we physically install things? Beyond issues of infrastructure, we leveraged our relationships with manufacturers to help Idibri specify the AVL equipment. That way, we could get price breaks that helped Watermark get the best value for its dollar. Finally, the level of trust between the three parties allowed us to make quick strategic decisions and act on them. We didn't feel any pressure to go back for approval for every new decision. Our relationship and trust definitely streamlined the process."
The sermon delivered at Watermark's main Dallas campus is displayed on a 24 by 13-inch centre screen at the Fort Worth satellite, with a pair of 16 by 9 inch LED walls on either side of the stage as a supplement. Ross Carbonite video switching and Black Magic video routing handles the external and internal video signal processing. The Fort Worth satellite stages its own live band, relying on a stereo L-Acoustics Kiva II line array with L-Acoustics KS28 flown cardioid subwoofer components for impact. Using Dante from start to finish, a Yamaha CL5 digital console at FOH and a Yamaha CL3 digital console at monitors draw signal from Yamaha RIO stage boxes.
All lighting is delivered by ETC LED fixtures, ETC Color Source spots, ETC Color Source par, Elation Fuze Washes, and Elation Satura Profiles. A Chroma-Q Vista system provides lighting control. In addition to the main sanctuary, Clair Solutions installed AVL systems in two adjoining multipurpose rooms for youth worship and preschool.
"Part of the benefit of Clair Solutions' long history with Watermark Community Church is that we came into the project with an established understanding of exactly the sort of AVL system they were looking for," Mike said. "We know what they expect and there wasn't any 'get-to-know-you' learning curve."