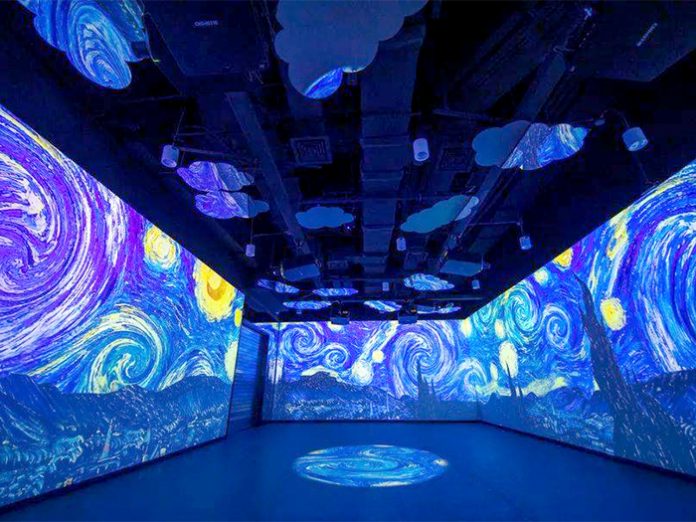 Christie 1DLP laser projectors are delivering highly immersive visuals in a new digital experience pavilion at the new Beijing Daxing International Airport, the world's largest single-building airport terminal.
Featured works by van Gogh and Monet are projected on the walls in the main gallery using Christie DWU850-GS laser projectors (Photos courtesy of Wincomn Technology)
Located on the second level of the sprawling terminal building nicknamed "the Starfish" due to its unique star-shaped design, the "Journey of Light and Shadow" digital experience pavilion provides visitors with an immersive and interactive space to appreciate and experience art through the use of cutting-edge projection, audio, and interactive technologies. The venue consists of a preface hall and main gallery lit by 15 Christie DWU850-GS 1DLP laser projectors supplied, installed and commissioned by Christie's longstanding partner, Wincomn Technology.
Themed "The Four Seasons by Masters of Art", visitors can enjoy stunning digital projections of eight art masterpieces on the walls and floor of the pavilion covering an area of 130 square metres. They include Vincent van Gogh's "Almond Blossoms", "Green Wheat Field with Cypress", "Starry Night", "Sunflowers", "The Harvest", and "Wild Roses", as well as Oscar-Claude Monet's "Water Lilies" and "Floes at Bennecourt", which magnificently highlight nature's beauty and the ever-changing world around us.
"The 'Journey of Light and Shadow' digital experience pavilion is an innovative cultural space that enable visitors to relax and admire world famous art pieces in an unprecedented manner – through highly immersive projections that make them feel as if they're part of the paintings," said Tony Chen, general manager, Wincomn Technology. "We are very excited to be involved in this significant project, particularly with the projection design, and have pulled out all the stops to create an awe-inspiring, contemporary digital art gallery using the tried-and-tested Christie GS Series 1DLP® laser projectors, which we are very familiar with."
Wincomn adopted front projection using ultra short throw lens to display visuals in landscape format on all surfaces. This enabled all images presented on the walls of the preface hall and main gallery to be seamlessly integrated and completely filled from top to bottom. An overhead structure was also erected for the projectors to be suitably installed as it was architecturally difficult to mount them on the ceiling. In this way, usable space can be fully utilised and the projections will be free from any interference by visitors
Elaborating on why the Christie DWU850-GS was chosen, Chen explained, "We have used Christie's GS Series for a number of cultural, entertainment and night tourism projects across different provinces. In particular, this 8,400 ISO lumens projector is known for its small footprint, low weight, quiet operation and advanced colour reproduction with Christie BoldColor Technology, which makes it ideal for deployment in high-usage environments like this. Coupled with a long-lasting laser light source and 24/7 operation durability, the DWU850-GS can help the client save on maintenance and manpower costs in the long run. This will, in turn, improve operational efficiency of the digital experience pavilion."
Since its recent opening, the "Journey of Light and Shadow" digital experience pavilion has wowed numerous visitors as they experienced the four seasons depicted by van Gogh and Monet in their renowned artworks. From a constellation of shining stars to fun-filled interactive floor projections and vivid imagery of wheat fields, water lilies and floating ice, visitors take delight in the multisensory experiences that transport them between virtual and reality.
April Qin, sales director for China, Enterprise, Christie, commented, "The Christie DWU850-GS laser projectors deployed at Daxing International Airport's new digital experience pavilion have delivered high performance and reliability without the down-time, cost of lamp replacements and the maintenance associated with lamp-based projectors. We're delighted that this ingenious installation by Wincomn is a hit with visitors and demonstrates the unlimited installation possibilities offered by our 1DLP laser projection solutions."