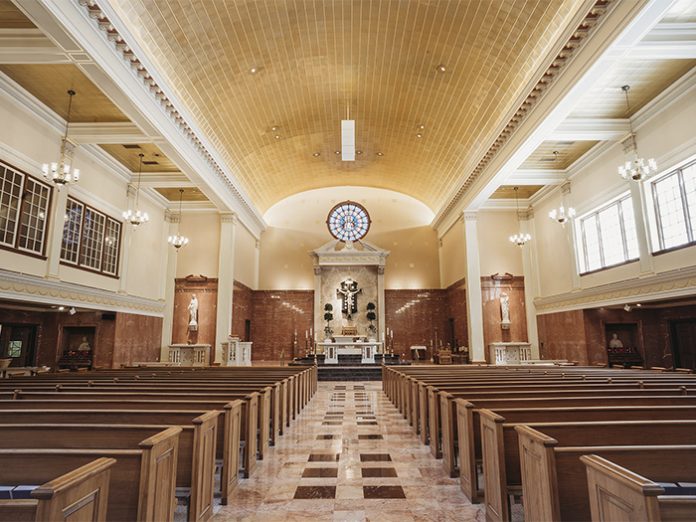 The church building of Christ King Parish in the western Milwaukee suburb of Wauwatosa has been through over half a century of construction, reconstruction, renovation and updates. But the one that likely may have made the most difference was the recent replacement of its old sound system with a new L-Acoustics A10i array and Syva loudspeaker enclosures installed over the summer by the local office of Clearwing Systems Integration.
The building, which opened in January of 1957, was designed to seat 1,200 parishioners. However, like many older Catholic house of worship designs, the preponderance of marble, glass and hardwood made for a highly reflective sonic environment that was highly challenging for music, and especially for speech. As is often the case in these types of spaces, speech is sourced at the altar in the front while music emanates from the rear choir and organ loft, so addressing Christ King Parish's needs would have to come from both directions.
Using L-Acoustics Soundvision design software, Clearwing Systems Integration created an ideal solution that featured a single central array comprising a five A10i—four Focus enclosures over one Wide—flown at the front of the room, and a pair of Syva and Syva Low speakers mounted on either side of the doors to the building's narthex underneath the loft at the room's rear. Four compact 5XT coaxial speakers are mounted two per side under the acoustically shadowed left and right transept areas, while four portable X12 monitor wedges enable the musicians upstairs to clearly hear themselves and the altar audio. Four LA2Xi amplified controllers power the entire system, which now brings clarity to both the message and music alike.
Clearwing Systems Integration Operations Manager Mike Jonas says the difference in sound quality since the installation is dramatic. "The previous system consisted of a custom horn array, which can be typical of older churches, producing inconsistent coverage and a poor aesthetic," he says. "The trick to making sound work in an environment like this with a lot of hard, reflective surfaces is good pattern control and that's what the A10i and its Panflex technology offers."
In this case, Panflex, a unique horizontal steering technology that combines mechanically adjustable fins with DSP algorithms effective from 300 Hz, let Jonas choose the symmetric 70° setting for the top four speakers, which kept the sonic energy squarely on the seating areas and away from reflective surfaces. "The A10i gave us plenty of output but not a lot of extra low end, which in a space like this could build up quickly," he says.
On the opposite end of the church, the Syva loudspeakers provide the full range for music to accompany the new 41-stop organ the church has installed in the loft. "The Syva are amazing for piano and voice," he says. "And thanks to the 5XT fill speakers, other areas like the baptismal font, which never had any direct coverage before, now have good, direct sound."
"What's also great is that you can hear the difference but cannot easily see the systems," Jonas adds, referring to how L-Acoustics was able to so closely match the exterior color of the A10i enclosures and grilles, as well as the Syva, Syva Low and 5XT, to the very specific beige coloring of the church itself, using the RAL color-standards chart. "It is important that the sound reinforcement system does not distract from the architecture of the church. The form factor of the various speaker options, along with the custom color, allowed us to meet that objective."
Bill Lieven, Director of Liturgical Music at Christ King Parish, says the difference between the new sound system and what was there previously is literally night and day. "There were places in the church that the old system didn't reach clearly or at all," he says. "But now the coverage is very consistent everywhere. It sounds great—very clear and even."
In fact, adds Lieven, many parishioners never realized that there was a piano in the choir loft—a beautiful 7.5-foot Steinway grand, no less. "Before, some people thought we had an electronic keyboard up there. Now, we can hear the piano from the front of the room to the back, and the Syva Low sub really brings out its rich bass tones," he says. "Our parishioners can really hear the difference. They tell me it's wonderful, just wonderful."