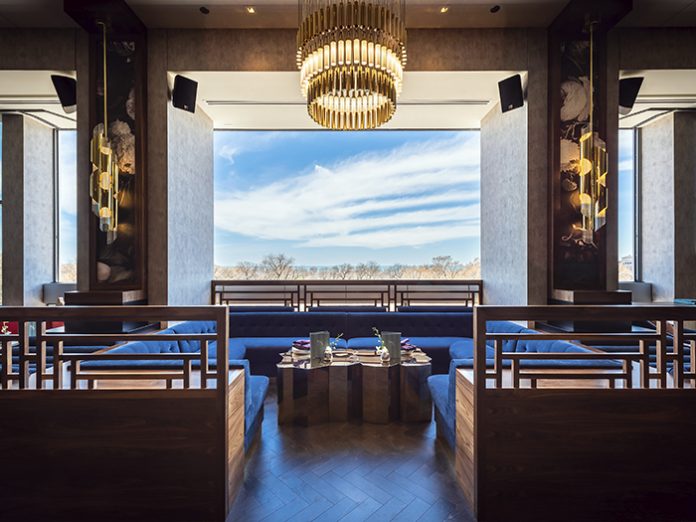 Encompass AV recently installed a comprehensive Martin Audio CDD sound system in the fashionable SX Sky Bar nightclub and lounge that occupies two floors of the luxurious new Hotel Essex across from Chicago's Grant Park.
Discussing the project, Encompass AV owner Tim Pickett explained: "We were charged with doing the audio for the SX Sky Bar on the fifth and sixth floors which includes the main bar/lounge upstairs and the dancefloor downstairs, in a night club which can also double as a corporate space during the day.
"Initially the designer was spec'ing another brand," Tim continued, "and they brought us on board because they wanted to do something special in terms of sound and make it different and nice … so we moved them into a Martin Audio CDD system."
The sixth-floor lounge includes a combination of 16 wall-mounted CDD8s throughout the bar and booth area with six CDD6s in a custom zone facing the glass windows with a lake view. These are matched with 4 CSX118 and 2 CSX212 subs distributed evenly throughout the space. There are also 8 in-ceiling Martin Audio C8.1Ts in a private dining area.
Upstairs in the lounge, the venue required high-quality environmental music that could be brought up to DJ levels later in the evening. According to Tim: "downstairs also required exceptional quality with higher SPLs. The night club is targeted to a demographic that runs from 21 to late 40s––mostly modern dance music, hip hop, etc."
For what Tim called "the large system downstairs", they installed 6 wall-mounted CDD15's on one side of the room pointing towards the dance floor with 2 floor-mounted CSX218 subs on each side of the room in a  small space, probably measuring less than 1000 square ft.
Asked about his speaker choice for the venue, Tim responded: "There are two main things with CDD. Out of the box, the cabinets sound amazing––even in a room that is only fair acoustically––without requiring a lot of processing, which makes things really simple for us. They have a lot of clarity, the lows are punchy, there's no mess in the middle like a lot of other speakers. It's just a clean, good sounding cabinet.
"That and the dispersion pattern is perfect for nightclubs, restaurants, hotels and other types of hospitality venues because we're typically dealing with lower ceilings and the best way to get optimum coverage is to go with more small speakers instead of huge ones.
"CDD is perfect for that because of the wide coverage and differential dispersion. We can really nail these rooms and get smooth uniform coverage throughout the entire space and have it all sound great. Plus they're not hyper-aggressive visually so they don't negatively impact the look of the space."
In conclusion, Tim added: "Although it has only been open a short time, SX Sky Bar clients have already given us very positive reviews. As soon as we had the system up and running, I immediately received lots of compliments, with everyone in the room telling us how great it sounded!"