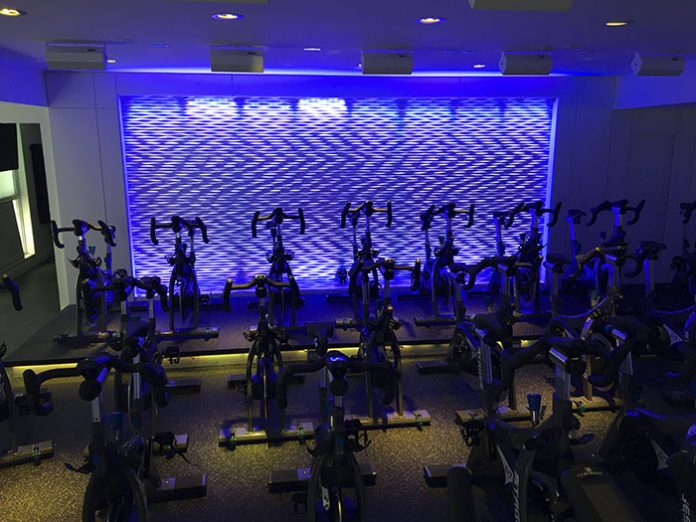 Indoor cycling is a fitness activity that has raced into the fast lane. According to one study, the number of dedicated cycling centres in the US increased by over 20% last year. A visit to Ride Delray Indoor Cycling Studio makes it easy to understand why this trend has taken off.  Guests at the sparkling new facility aren't simply exercising, they're participating in a fitness party, cycling together in choreographed rhythmic moves to the beat of lively music. Contributing to the good feelings is an immersive lightshow created with a collection of Chauvet Professional and Iluminarc LED fixtures.
"Lighting is a key part of the experience at Ride Delray. It helps to set the mood and engages people," said Jay Krause of Sound and Lighting Solutions, who designed the centre's lighting system. "The owners of this centre, Susan Albinder and Linda Besman, recognised the importance of lighting, which is why they contacted us when they took over this business last year. They wanted us to help create the kind of immersive uplifting environment that makes indoor cycling fun. Our mission was to give the centre the kind of wow factor that keeps people coming back. "
Jay and his team at Sound and Lighting Solutions fulfilled this mission in stunning and colourful fashion. Key to their success is the captivating wave wall they created along the back of the centre with 18 COLORdash Batten-Hex eight linear washes and 12 Ilumipod LOGIC Tri-4  RGB colour mixing fixtures.  The COLORdash units are installed at the base and the top of the wall for up and down lighting, while the LOGIC Tri fixtures are installed in the ceiling to serve as downlights.
Outfitted with RGBAW+UV LEDs, the COLORdash Batten-Hex fixtures render extremely rich, vivid colours. This attribute was essential to Jay's design plans for the cycling centre. "The Hex technology is amazing," said the LD. "It allowed me to use whites and blacklight to get richer colours than I could ever achieve with the standard RGB-style fixtures.   This advantage gave us a considerable colour palette to choose from when creating scenes on the wall."
The scenes that Jay has created on the aptly named Wave Wall often involve undulating patterns of vibrant colours, which set a very contemporary and immersive tone throughout the entire room.  "We wanted to give a futuristic look to the place, yet allow it to have a serene look, which was accomplished through programming," he explained.  "One of my favourite looks is called Sunrise. In this look we emulate a sunrise from the bottom of the wave wall to the top. We're able to do this by pixel mapping the lights and controlling each diode."
To keep the looks on the Wave Wall fresh, Krause has been visiting the cycle centre roughly once a month since the installation was completed in January 2016. "The wall has really become a living part of the facility, so we're happy to visit to keep it fresh," he said. "In my view this is a very immersive design feature that you just won't find at other cycle centres."
When creating this immersive design, Jay had to meet the challenge of keeping the fixtures themselves either out of sight or very discretely positioned. "It was a challenge to put this many fixtures in a relatively small space, while not having them be conspicuous," he said. "We're creating an environment that transports people to another world here, so we want to hit them with the light, but we don't want them to see the source of the light – that would take away from the magic! The fixtures we used were compact and subtle so we were able to keep our look clean."
As for his clients, Jay says they are extremely pleased with the end results. "The classes are full and they get a lot of favourable comments about the wall," he said. "A good cycling centre should offer a total experience and visuals are certainly part of that."