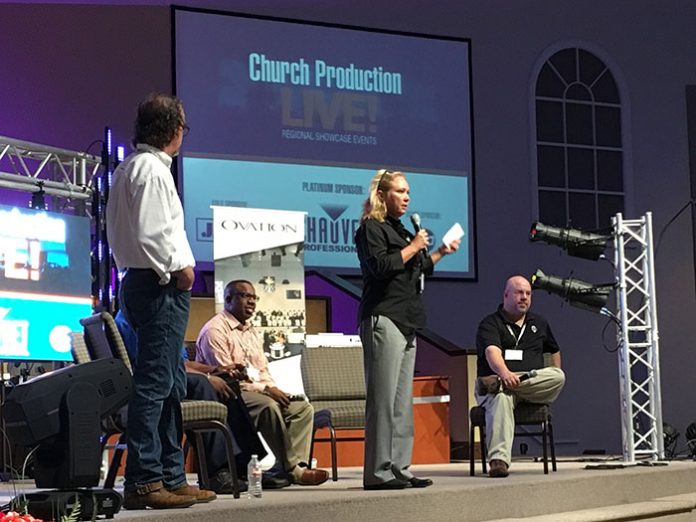 A large and diverse mix of church technicians and worship leaders from four states came to Tabernacle of Praise in suburban Atlanta to participate in an educational tech session sponsored by CHAUVET Professional and Church Production magazine. The first in what will become an ongoing series of "Church Production Live!" seminars, the event covered a variety of lighting, video and audio issues involving churches today.
Also included in the daylong session was a detailed account of Tabernacle of Praise's experience converting from an incandescent stage lighting system to an all CHAUVET Professional LED system. Brad Lyons of dB Audio, who also serves as the tech director of the large Atlanta-area church, described how it replaced 20 incandescent stage lighting fixtures with 25 CHAUVET LED fixtures and reduced its number of 20 amp circuits from 11 to seven in the process.
Walking attendees through the church's rig, Lyons explained how the new fixtures helped created a more engaging worship environment and resulted in better lighting for broadcast services.
Brad commented: "If you want to have good video, you have to have good lighting and if you don't have good lighting, it doesn't matter how good your cameras are, the end result won't work as well as it should."
In addition to the guided tour of the Tabernacle of Praise lighting system, the Church Production Live! event featured breakout sessions on a variety of lighting, video and audio topics, including DMX programming, broadcast applications, and incorporating gobos into church lighting designs.
Vice president of Chauvet, Berenice Chauvet: "We are very excited and encouraged by the response to the inaugural Church Production Live! event. As a company, we are deeply committed to developing the church market through education. This led us to develop our learning sessions at WFX. This event at the Tabernacle of Praise is another step in that process. We feel that as a supplier to this industry, it's important for us to get involved and do all we can to help educate the volunteers who use our products every Sunday at services."
Following up the Church Production Live! event, CHAUVET Professional is looking forward to sponsoring seven educational sessions at its "Learning Room" at the WFX Conference in Louisville, September 21 and 22.