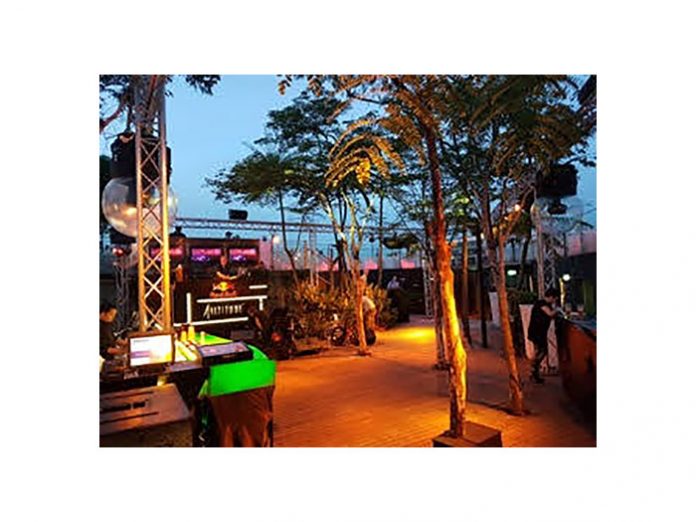 On the roof of the 61-story OUB Centre in the business district of this bustling city-state perches Altitude, the world's highest rooftop bar. A multi-experience lifestyle venue spanning three floors, Altitude sports a dance floor, from which visitors can indulge in the spectacular 360° view of the city below. Wanting to create an authentic club feeling in their high flying establishment, Altitude's management recently hired Trektech to do a complete renovation of its entertainment system and lighting rig.
The Singapore-based supplier was more than up to the task, giving the remodelled club a colourful high-impact lighting rig anchored by a collection of Rogue and COLORado fixtures from Chauvet Professional.
Trektech installed three Rogue R2 Spots, three Rogue R1 Beams and 16 COLORado 1-Tri IP LED washes around the club's open air dance floor. To support the fixtures, the Trektech team erected a triangular shaped truss structure over the correspondingly shaped triangular dance floor. The Rogue R1 beams were fixed at the three corners of the triangle, with the Rogue R2 spots in the middle of each side. The Rogue fixtures were mounted within humidity controlled weather domes to protect them from the challenging and at times harsh weather conditions on the rooftop.
"The size, weight and brightness of the Rogues were ideal for the installation," explains Colin Evan Quek, Project Manager of Trektech. "The Rogue R1 Beams are fantastic given their compact size. The beams punch through anything, even during daylight hours when the bar is also open to the public – such is the brightness of the beam. We're also impressed by how the prisms and gobos can be shone through the stunning split beam effects."
The R2 Spots played a complementary role, providing sharper and more focused spots to interact with the R1 Beams. "We use the R2 Spots to achieve an ideal balance to the overall look," said Quek. "In trying to build a club atmosphere, they are the perfect fixture because they can throw colour around in a purposeful manner, adding to the full on club experience."
Distributed between the Rogues all over the truss, the COLORado 1-Tri IP LED fixtures, with their 14 intense calibrated tri-coloured LEDs, were installed to provide intense saturated wash for the dance floor. Specially designed to be installed outdoors, the COLORado fixtures can withstand the environmental challenges posed by this unique venue. "The COLORados provide really deep colours. It's amazing how bright and intense the colours are. We don't have to worry about these getting exposed to the elements."
All in all, Quek and his team were very satisfied with the Altitude rig: "The whole install replaces a set of old static washes. As you can expect, the reaction to the new installation has been quite amazing, and the combination of looks created by the moving heads and wash fixtures give the rooftop Altitude that special atmosphere for being the highest alfresco bar in the world!".