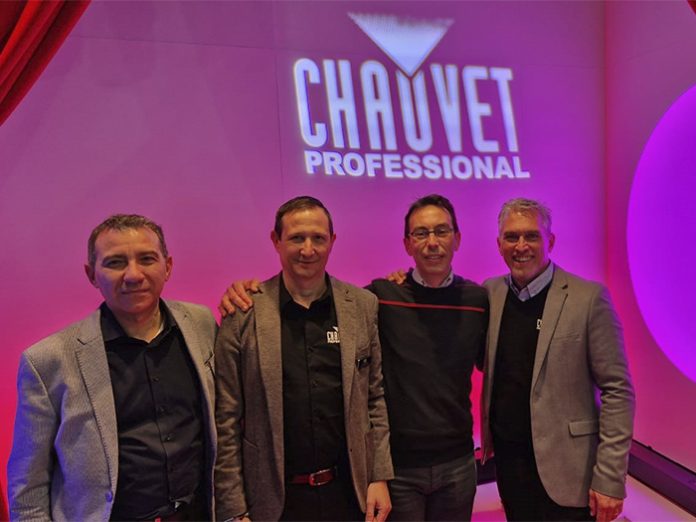 As part of its initiative to increase its level of service and product availability throughout the world, CHAUVET Professional has appointed Zalight the exclusive distributor of its products in Italy.
"The timing of Chauvet and Zalight joining forces to develop the Italian market is spot on, as both companies share a similar vision and culture," said Stéphane Gressier, International Sales Director of Chauvet. "We are thrilled to start this new adventure with Graziano Zanini and Luca Di Donato's team at Zalight. Antonio Parise, our Business Development Manager EMEA, and Goran Doncic, our Senior European Business Development Manager EMEA, and the rest of the Chauvet team are looking forward to accomplishing great things with Zalight."
Graziano Zanini, CEO of Zalight, is equally enthused about the new agreement, staging, "CHAUVET Professional needs no introduction. It is a highly respected global brand with offices with universally recognized leadership, and a wide catalog of top-quality products. We have always been impressed by its ability to respond to market needs with innovative technological solutions."
Recent examples of CHAUVET Professional innovations that have impressed Zalight include the Color STRIKE M, and the COLORado PXL Bar 16 as well as the entire range of IP65 moving heads, which are increasingly being specified on many international tours.
"Thanks to its extraordinary variety of products, CHAUVET Professional offers infinite possibilities to lighting professionals," said Luca Di Donato, Business Development Manager of Zalight, "Our goal is to make it a reference brand also in Italy, as is already the case in many countries around the world."
For his part, Antonio Parise, said: "I have known Graziano and Luca for many years, and I feel very confident on their ability to succeed with Chauvet in the Italian market. We are here to support Zalight 100% in their endeavors"