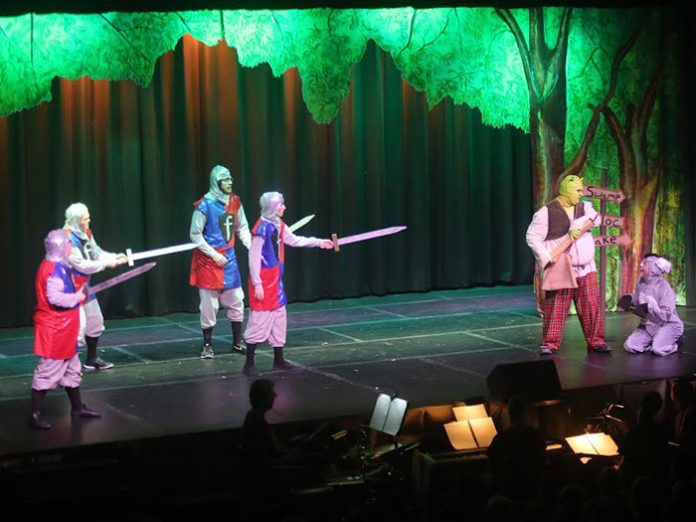 Every summer the population of New Hampshire's rural Grafton County on beautiful Newfound Lake swells with vacationers from Boston and New York. But in late April, before the visitors arrive, local residents enjoy a quintessential small town community building event when the Newfound Regional High School drama department hosts the Annual School Musical. A tradition that dates back to the 1980s, the spring play draws area residents from the five communities served by the school, as well as students, to try out for roles. This year, the local show was given a new, more aesthetically pleasing twist thanks to a recently installed all LED lighting system that features CHAUVET Professional fixtures supplied by DNR Laboratories of Watertown, CT.
The new lighting system was part of an overall AVL upgrade for the theatre. Paul Ciotti, the recently appointed Technology Coordinator for the Newfound Area School District, was the point person in coordinating the project. "Our theatre is important, not just to the school, but to the entire community, so it deserves a good lighting system," he said. "At 30 years old, Newfound Regional High School is still one of the newest schools in the district, but the time had come to upgrade its theatre. I worked closely with DNR Laboratories in the past when I was in Connecticut, so I contacted them about the audio, video and lighting components of this project."
The old incandescent theatrical lighting system was, "antiquated and unreliable," according to Ciotti. Consequently, the school board readily approved the plan to upgrade to a new LED stage lighting system that featured 50 Ovation E-910FC colour mixing ellipsoidal fixtures, six Ovation C-640FC cyclorama washes, 40 COLORado Batten 72 battens and 20 COLORdash Par-Quad 18 RBGA par style lights, as well as four Rogue R1 Spot unis,
"Our goal was to make it easier and safer for our students to use the theatrical lighting system," said Ciotti. "We also wanted to give them access to current LED technology so they could develop a skillset that would be useful to them once they graduated. On a more tangible level, we wanted to reduce the heat generated by the existing fixtures while increasing the energy efficiency. We also needed to brighten up the place drastically. One of my first tasks with the school system when I arrived was to jumpstart an auditorium improvement project at our high school that had been placed on hold before I got there."
Early in the upgrading process, Ciotti called DNR Laboratories. "Having worked with the DNR team for close to 10 years while in Connecticut, I knew I could count on them for some honest feedback and guidance," he said. "Earlier recommendations made before I arrived called for integrating LED and digital components into our incandescent and analog environment. However, this did not seem like the best course to me. I was more interested in embracing new technology throughout the lighting and audio system."
DNR detailed plans for a lighting and audio system that was 100-percent LED and digital, with digital sound, a new digital mixing console, digital microphones and speakers – plus one hundred percent LED lighting. The project eventually went out to bid, which was won by DNR.
As part of the upgrade, new 30-foot mid-stage truss was installed at the school theatre. Most of the Ovation E-910FC ellipsoidal fixtures (40 units) and all four of the Rogue R1 Spot fixtures were flown on this structure. Both fixtures perform multiple functions from this position thanks to their wide range for performance capabilities. The Ovation units excel as top lights with their flat even fields, but are also relied on to change the mood on stage with their RGBA-Lime colour rendering capabilities. The Rogue Spots serve as traditional spot lights, but also add new looks to the stage with their seven interchangeable gobos and 3-facet prism.
"Our new system's design capabilities create a range of possibilities for our theatre department," said Ciotti. "Aside from being more practical, our new system is also a lot more versatile from a creative standpoint."
The 40 COLORado Batten 72 fixtures and the 10 remaining Ovation E-901FC units are positioned on stage electrics. The Ovation C-640FC cyclorama wash lights are arranged upstage to create bright colour scenes on the black cycs.
"When people ask what about the new lighting system impresses me most, I tell them, 'where do I begin?'" says Ciotti. "We don't have to replace lamps, we don't need gels, the fixtures consume one eighth the power of our old tungsten lights, they produce less heat, and we don't need dimmers or special dimmer wiring."
Ciotti also appreciated the powerCON in and out feature of the new fixtures. "Now we wire all the electrics and truss with powerCON connectors instead of stage pin and Edison," he said. "This means everything can be wired within minutes of hanging a light. All lights can chain light to light. This saves on circuits, wiring and eliminates complex wiring. So while our audience loves the looks the new lighting creates, we appreciate it for another thing too: it makes the theatre much more efficient."