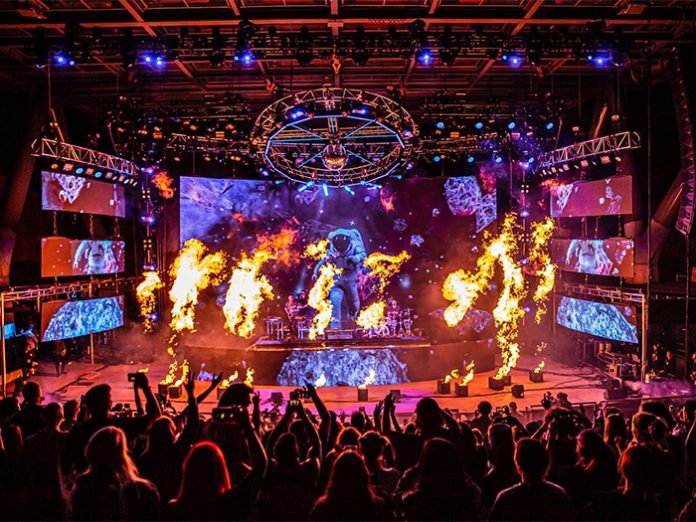 A casual observer might describe Rowdytown as a concert, but the event's organisers, the talented electronic music duo Big Gigantic, and their legion of fans, prefer party, a term that more accurately captures the close-knit, free-flowing and fun-filled vibe that fills the air during this two-day affair.
Regardless of what they call it, however, there's one thing fans can be sure of: Rowdytown will take them on a journey that's as unforgettable visually as it is musically. From the very beginning, Big Gigantic has insisted that their event engage the eyes as well as ears by having their designers create a 3D stage production.
This was evident at the Red Rocks amphitheater in late September for Rowdytown X, the 10th anniversary edition of Big Gigantic's flagship party. Lighting and production designer, Justin Casey of Helms Projects and the production team created a deep and evocative stage presence that made it easy for fans to feel like they were entering a 3D space as they watch performances by the event's hosts, as well as guests JOYRYDE, Mitis, Jantsen, and INZO.
A variety of design elements, from a curved set that wrapped around the artists on stage, to blow-through video walls with generative content, were seamlessly fused to create this immersive panorama. Contributing to the overall effect was a collection of 40 CHAUVET Professional fixtures supplied by Helms Projects and Brown Note Productions.
"This production took a village to complete, so big thanks to all my vendors, not just Helm Projects, and Brown Note Productions, but also Pyromix Pyro, Laser Wolf, Photon7, Gallagher staging, Antic Studio and PSI," said Casey. "There were also so many people involved like Jonathan "Jdub" Watson, Tommy Mercer, Sean Ginsburg, and Bryan Saltarelli from the lighting team, Max Kohler, Collin Thielen, Andrew Gross, Daniel Fennell, John Batts from the video team; Marshall Rawley, Conner Ash from laser, Alex Curry our rigger; and Sean Mullens, Whitney Wangsgaard, Mike Norfleet, and Bryan Fletcher from the Big Gigantic team."
Creating a distinctive focal point in the middle of their dimensional stage, the design team positioned a giant mirror ball over its center. As it turned out, the mirrors on the ball lacked the size to reflect the volume of light needed to have the desired impact. This was compensated for by stepping up the coloured light hitting this structure and by mounting 16 ÉPIX Stirp Tour linear units around it. "The strips did a great job filling space around the ball," said Casey. "They are a fun fixture to run chases on."
Adding an intense level of brightness and colour to the stage were 24 Colour STRIKE M fixtures mounted on the circle flown over the stage, as well as on stage left/stage right towers and horizontally-oriented downstage truss. The intensity of these motorised/strobes ensured that they would standout even against the output of the video walls.
"These lights gave us big punches of colour," Casey said of the Colour STRIKE M. "They are so bright that they really hit you in the face. It was also cool to turn them backwards and light up the trussing and give it more of an industrial fell at times."
Wanting to give the 10th anniversary show a new look, the design team decided to add pyro effects this year. The depth of the stage and some adroit manipulation of lighting fixtures, allowed the design team to incorporate this element into the show without upsetting its equilibrium.
"Fire was a new item this year, and it was amazing in helping amp up the show," said Casey. "We decided in our pre-production time which songs were going to be big pyro hits ,and which are going to have Lasers in them. The band has a lot of high energy songs, so it's very easy to overpower things, but we love it when we can black out the lighting and video and just have lasers or pyro for a couple of measures. It's just a big impactful way of creating a show."
A major distinguishing feature of the show was its powerful video presence. The set featured a large curved video wall that ran almost the entire width of the stage, video panels on the curved risers and three horizontal video panels on each side of the stage. Max Kohler of Antic Studios created an array of images for the displays, ranging from the surrealistic and fantastical to the industrial and geometric. Oftentimes the same images were repeated on all video surfaces, while at others different displays were shown.
At times, the borders of the side and riser video panels were made blurry to create a transcendent effect. "We had electric voltage lines and several other border transparent content pieces that we used to outline video panels," said Casey. "I am a huge fan of the border content and some generative live content. It creates a greater sense of immersion – and immersion is at the heart of Rowdytown."