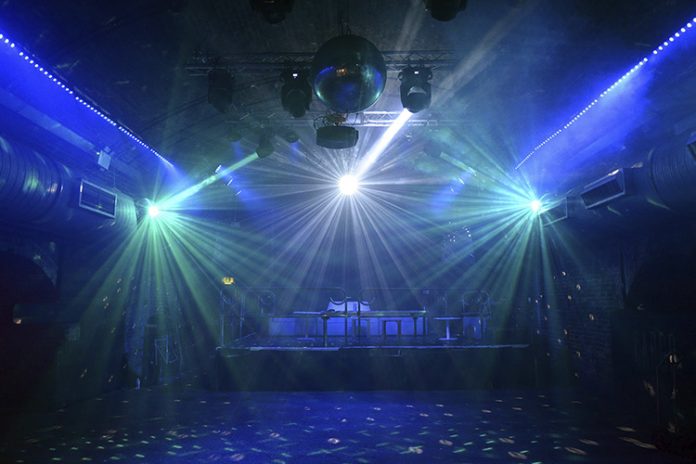 Underneath the Victorian railway arches of the Overground line in London's trendy Shoreditch district lies Cargo, one of the capital's edgiest late-night bar and club venues. While the venue's genuine Banksy graffiti art-filled courtyard is a magnet for art aficionados and tourists alike, the club itself has been busy building up a formidable reputation of its own thanks to an eclectic music programme. To install an appropriately multifaceted lighting rig, Cargo recently approached London-based installation specialists, Halo lighting, which specified a number of CHAUVET Professional and CHAUVET DJ fixtures.
"Cargo approached us wanting a lighting rig capable of supporting a wide variety of dub, house, techno and electro events," commented Yann Guenancia, Director of Halo Lighting. "The combination of CHAUVET Professional Rogue R1 Wash and Legend 230SR beams, in addition to CHAUVET DJ COLORband Pix and Par Quad 12s provided excellent versatility at an excellent price point."
Six Rogue R1 Wash and four Legend 230SR Beams were flown from overhead truss to provide the central core of the install. While the R1 Wash's saturated colours, powerful light output and gobos were specified for their atmosphere inducing qualities; the Legend 230SR fixtures provided the ultimate counterpoint with punchy beams to cut through the dance floor.
"The combination of the Rogue R1 Wash fixtures and Legend Beams are essential for creating the look and feel of an exciting and progressive venue," commented Yann. "Both fixtures provide the energy and drive necessary for a whole range of music styles."
As the club is also regularly home to intimate showcases of big-name artists ahead of their record releases and hosts label parties, it was essential that the installation incorporate several more subtle options for eye candy and atmosphere. To achieve this, Halo positioned 14 CHAUVET DJ COLORband Pix fixtures to line both walls of the club, with 10 Par Quad 12 fixtures dotted around overhead ceiling truss to provide a blanket wash of colour as and where necessary.
"The linear pixel mappable effects of the COLORband Pix are a great tool to give an expanded feel to the dimensions of the club, and simultaneously ensure great all round wash to provide atmosphere," continued Yann. "To fill in the gaps, the Slim Pars work particularly well in conjunction with the Rogue R1 Wash fixtures."
With versatile and wide-ranging looks assured, there was just one more crucial factor to address: reliability throughout the venue's relentless nightly schedule. Given CHAUVET's proven history with previous Halo club installs, Guenancia didn't have any second thoughts when considering fixtures for the rig.
"While the fixtures are bound to be given a tough time day in day out, our experience with CHAUVET demonstrates the fixtures are more than capable of the most grueling of conditions," concluded Yann. "As a result, Cargo can now confidently provide versatile lighting for all manner of events without ever missing a beat."