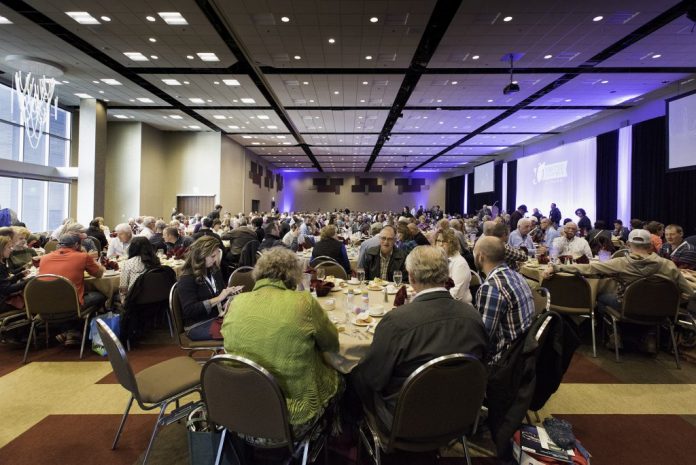 Things are bustling in Idaho's capital, which was recently ranked by Forbes as one of the 15 fastest growing cities in the US, and led all metropolitan areas in the country in the creation of new construction jobs last year. Keeping up with the rapid pace of change is Boise Centre, a multi-use meeting and convention venue located in the dynamic heart of the city. In October, the first phase of the facility's expansion plan was completed, with the opening of Boise Centre East, a 36,000 sq. ft. site located directly across The Grove Plaza from the 50,000 sq. ft. original Boise Centre building.
The new building does more than expand floor space at Boise Centre, which expects to see a significant increase in the number of events booked; it also enhances the site's versatility with eight new meeting rooms, a 13,000 sq. ft. ballroom and over 4,000 sq. ft. of column-free pre-function space overlooking an attractive plaza and fountain. Adding to this flexibility is the expanded center's new all-LED lighting system that features CHAUVET Professional fixtures supplied by Production Services International.
Boise Centre's new lighting system includes 10 Ovation E-910FC colour mixing ellipsoidals and 12 COLORado 2-Quad Zoom Tour RGBW par style lights, as well as four Rogue R2 Wash and two Rogue R2 Spot fixtures. Most of these fixtures, along with the 12 COLORdash Par-Quad 18 LED units already in the centre's system, will be used at both the new building and the existing facility, depending on the lighting demands of any given event.
This year, the Boise Centre hosted over 220 events, ranging from the Top Fuels Conference and the Conference for Food Protection Biennial Meeting, to wedding planning and flower and garden shows. With their wide zoom ranges and color rendering capabilities, the CHAUVET Professional LED products will fill a variety of different roles at these events, according to Chris Morrison, Audio Visual Manager of Boise Centre, who notes that the fixtures will be used for stage lighting, effects lighting during celebrations, and wash lighting walls during banquets and ceremonial functions. The new fixtures have increased the center's ability to create custom lighting designs for clients and to upsell groups that may not be familiar with the products.
Selecting all LED fixtures for the Boise Centre's expanding lighting inventory was essential for a number of reasons. "The existing Boise Centre building currently has traditional fixtures with dimming," said Morrison. "The new building has no dimmers, so LED was a must. Another key factor in choosing fixtures was making sure the color temperature matched between the conventional and LED fixtures, because there is always a chance the two would be used together. The LED lights are higher quality and provide a cost savings. We were excited to get the latest in lighting technology and moving fixtures."
Morrison also had praise for Production Services International, which has been Boise Centre's preferred audio-visual source for fourteen years. "PSI has built a reputation for quality and superior service," he said. "Locally, we have benefited from working with Noah Bard, PSI Operations Manager, who assisted us in making this project a success."
As a result of its successful expansion, Boise Centre expects to see a sizeable increase in attendance over the 136,000 people who visited last year. First-time visitors as well as returning clients, will be impressed by many things at this state-of-the-art facility, including its dramatic curved front wall with a 45' by 40' window that changes tint by time of day, complemented by modern interior finishes similar to a fine hotel, the latest in technology and a very versatile LED lighting rig that can pretty much do whatever is called for at this dynamic, multi-functional meeting place.