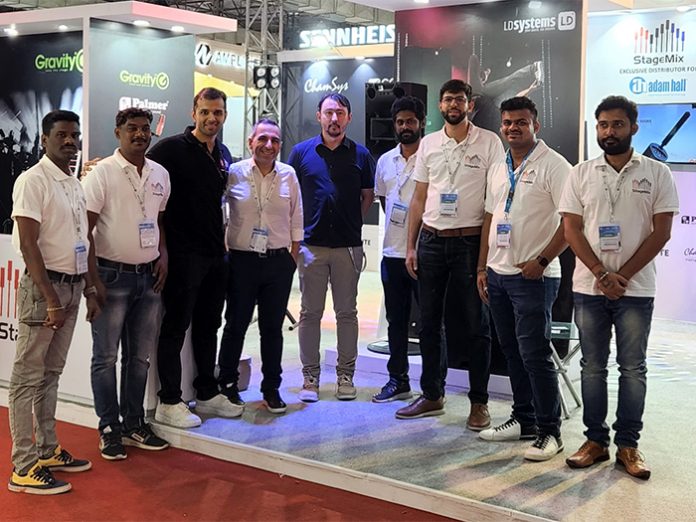 PALM expo marked a new chapter for ChamSys in India, as it worked the show with its recently appointed dealer, StageMix.
"We are extremely happy to welcome StageMix as our Indian dealer," said Aziz Adilkhodjaev, ChamSys' International Business Development Manager. "Given the recent surge of interest in our products, we've been looking for a partner with the passion for growth that could help us seize the opportunities in front of us. We're confident we found that partner in StageMix."
Nitesh Narayan, sales manager of StageMix is equally optimistic about future growth. "This is a wonderful opportunity for our company," he said. "Chamsys has great products with a lot of features and functionality that are not readily found elsewhere. We got some very positive feedback from senior lighting designers who had used Chamsys abroad. Our team is committed to providing top notch support to our customers, so we share this philosophy with Chamsys, which already has a great platform with online training videos, webinars, and training sessions."
StageMix wasted no time in putting this service and training driven philosophy to work. As a run up to the PALM expo, the company conducted seminars in Bangalore and Mumbai, which attracted more than 60 lighting designers, programmers and directors over a three-day period.
"Many of the guests at our seminars were experiencing the Chamsys MagicQ and QuickQ consoles for the first time," said Narayan. "They were blown away with the powerful lighting control features, shape generators, full lighting visualisation, pixel mapping, HD media playback, and other features."
This enthusiasm was also plain to see at PALM expo. "Our stand was very busy," said Adilkhodjaev. "Visitors were clearly impressed by how the MagicQ products are easy to learn, easy to use and very powerful."
For its part, StageMix is eager to emphasise these attributes in its market development efforts. "As part of our promotion plan we will be conducting regular in-person training for theatre and concert lighting professionals as well as sending out our demo boards on shows so that everyone can get their hands on the powerful features of Chamsys," said Narayan, adding that, lighting professionals who see the consoles "quickly fall in love with them"
With enthusiasm like this, it's easy to understand why ChamSys and StageMix are both looking forward so excitedly to a bright future in India.