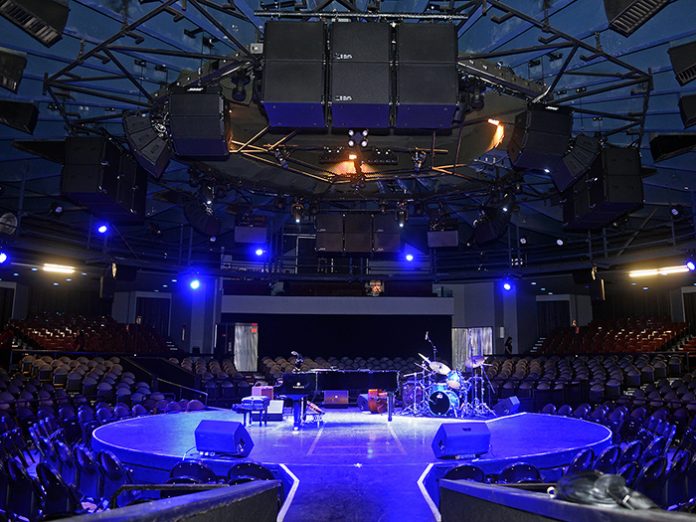 The historic Celebrity Theatre in Phoenix, a 2650-seat theatre-in-the-round constructed in 1963, has recently received a 48-module ShowMatch DeltaQ line array loudspeaker system from Bose Professional.
The system integrator was Valencia, California-based Summit Electric & Data, Inc., with installation assistance from Rhino Staging, based in Tempe. Flown above the circular stage, the main system, consisting of eight three-box arrays, is essentially four outward-facing stereo systems with a similarly-configured delay ring. Additional Bose speakers have been installed throughout the venue to extend coverage to the VIP seating area, the Celebrity Club and the artists' green room. The system's capabilities were on full display during its inaugural performance, as legendary vocalist Tony Bennett took the stage at the venue in August, with veteran sound mixer Tom Young at the console.
The 196-foot-diameter building, where no seat is more than 75 feet from the stage, required a sound system solution that could deliver even dispersion across the entire audience, with a consistent SPL from front to back, while also avoiding reflections from the domed ceiling and the venue's circular rear wall. The Celebrity Theater selected the Bose ShowMatch line array system, which directs more sound to the audience and less to walls, floors and ceilings through its versatile coverage pattern options.
A total of 24 ShowMatch SMS118 DeltaQ single 18 subwoofers arrayed in four groups of six, configured in a cardioid array to minimize low-frequency build-up, are flown between each of the four stereo left/right main hangs. In addition, six Bose RoomMatch Utility RMU208 speakers provide coverage for the VIP area above the main seating. Thirty-two Bose PowerMatch PM8500N amplifiers, networked via proprietary AmpLink cards, drive the entire system, which is managed by a Bose ControlSpace EX-1280C Series engineered sound processor.
"The system was perfectly designed for that room," said FOH Tom Young of the ShowMatch array, "I've done all the theaters in the round, and sound spill from behind the cabinets was minimal, which is usually problematic." In regard to the qualitative performance of the system, Young was pleased, stating, "I especially noted when mixing, the response of the system in the low end — when my bass player was using his bow — was impressive and tonally responsive."
Since its opening on January 13, 1964, the Celebrity Theater has hosted a diverse array of artists over the years, including George Carlin, Joe Cocker, Carol Channing, Diana Ross, Sammy Davis Jr. and numerous others. Upcoming shows at the venue through the end of 2018 include Joan Baez, George Lopez, Petula Clark, John Prine and The Brian Setzer Orchestra.