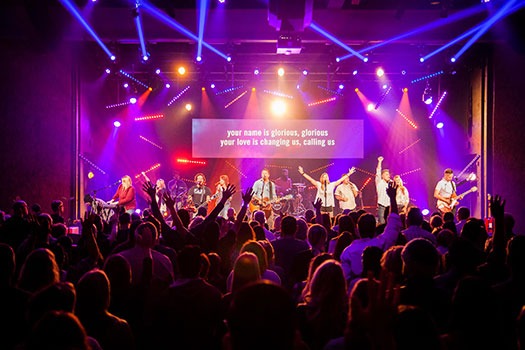 Sandals, a three-campus church in California's Inland Empire, features a variety of activities, missions and wonderful sermons on its website. However, this dynamic church's site also has a collection of web pages that isn't so commonly found. Called Giving Statement, these pages tell first person inspirational stories of actual congregation members, from a six-year old boy who raised money so other children could have Christmas gifts, to a young single mother who overcame drug addiction, to a middle-aged couple dealing with the loss of their son.
The Giving Statement pages reflect Sandals' stated mission of "becoming real with ourselves and God." This commitment was also a driving force behind the design of Sandals' 2,000 capacity main auditorium, an inviting space with the flexibility to connect to worshipers on a variety of levels. A lighting system that includes a collection of recently-installed Rogue fixtures from Chauvet Professional played a key role in creating this engaging environment.
"The Rogue fixtures give the church the flexibility to create a variety of different looks and do different things that engage people in new ways, not just at worship services, but also at youth events and concerts," said Duke DeJong, Vice President of Systems Integration at CCI Solutions, which installed the fixtures. "Dynamic lighting has been a big part of the Sandals worship experience for years, and Chauvet's Rogue spot, wash, and beam fixtures fit the bill perfectly."
For Project Lead Mark Pearson and the CCI Solutions team, the installation of the Rogues was part of year-plus project. "We have been working with Sandals Church and Isaiah Franco, the technical director for years," said Mark. "In the summer of 2014 the church began plans for a new Sanctuary, and CCI Solutions was selected as the AVL partner for the project."
CCI installed a total of 28 Rogue moving fixtures at the church: eight R2 Washes, twelve R2 Spots and eight R2 Beams. While the fixtures will move around on a regular basis, at the time of opening a group of four R2 Washes are flown on truss in front of the stage and used to engage worshippers. A pair of the R2 Beams are on the upstage deck and used for aerial effects, and six spots are positioned on drum and band risers to provide back lighting. The remainder of the Rogues are on overhead vertical and upstage horizontal truss to hit the stage with light from varying angles.
"The church needed fixtures that would add punch to the large auditorium, plus have the speed and agility to be able to handle a wide variety of needs and programming – which is exactly what we were able to provide with the Rogue," said Mark. "The speed and flexibility of the wash and spot fixtures, not to mention their overall brightness, made them ideal choices to create a dynamic lighting rig for performances at the church. We added the beam fixtures for extra visual impact-and to allow the church to do more fun things to engage people."
By giving Sandals new ways to connect to contemporary worshippers, the moving Rogue fixtures helped the church advance its getting real mission. The new fixtures also delivered another very real benefit by helping the church control costs. "CCI Solutions knows that every church has to be mindful of budget," said Duke. "This is why we're very careful in what we spec. We not only want fixtures that do all these cool things, we need them to be affordable too, which is why the Chauvet Rogue fixtures were perfect for Sandals Church."
www.chauvetlighting.co.uk