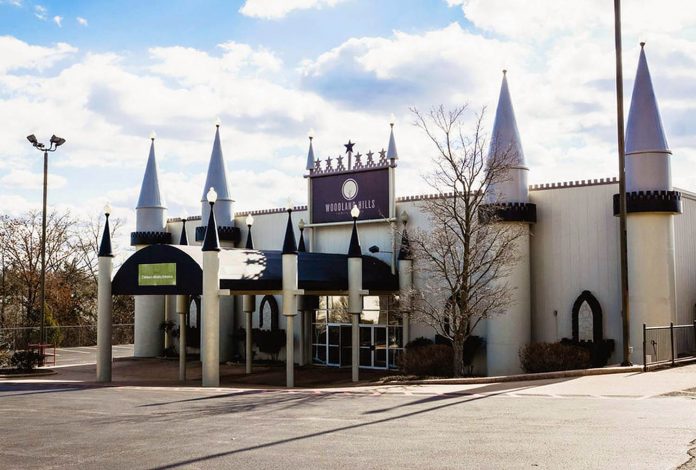 In any other town, the fact that Woodland Hills Family Church meets in a castle mock-up would have it sticking out like a sore, strange thumb, but not so in coluorful Branson, Missouri. Its "sanctuary" is just a few degrees shy of being in the round; a fact that adds excitement and dynamics to its high-impact services, but which also complicates effective sound reinforcement in the room. Recently, A/V integration firm Sandor Sound Services Group of Reeds Spring, Missouri commissioned the design and installation with Jay Malott, head A1 & rigger, and help from Russell Bullock, and Orchard A/V. They replaced Woodland Hills' failing sound system with a new Danley Sound Labs system that now gives the church uniform, high-fidelity, low-distortion coverage.
Woodland Hills Family Church's campus is set within a theme park and includes several interesting out-buildings. Sandor Sound Services Group had installed a system in an overflow building and then stayed connected with the church to help maintain its audio, video, and lighting systems. "Their existing system provided poor coverage in that nearly-round room, and it was distorted and fatiguing at the high-volume levels they wanted for their high-energy praise team band," explained Ed Sandor, principal at Sandor Sound. "It was a challenging situation because odd poles, together with the unconventional shape of the room, made it difficult to achieve even coverage. It was much more like designing sound for a huge circus tent than for any traditional sanctuary."
He continued, "We've been using a lot of Danley products in our installations. I'm a huge fan of their innovative loudspeaker and sub designs. The fidelity at high SPLs is really unlike any other loudspeaker out there. I'm convinced that Danley boxes are really the best speakers possible for these sorts of applications. I told the team at Woodland Hills as much, and they traveled with me to hear some of our other Danley installations in Missouri. They wanted that same impact and clarity in their room!"
The design that carried the day uses four Danley SH-50 loudspeakers in an exploded far-left, left, right, far-right array, strategically aligned to minimise problems from the room's odd support poles. Also, strategically interspersed are two Danley SH-95 loudspeakers for down-fill. Because the ceiling height and support structures would not accommodate flown subs, Sandor opted for two minimal-footprint Danley TH-118 subwoofers for floor-mounting on either side of the stage. Because of their location and the precise pattern control of the loudspeakers, sound throughout the seating area is a well-knit combination of the subwoofer and full-range components.
The installation also uses two of the new Danley DNA 20K4 Pro amplifiers, which pack four 5000W amplifier channels and comprehensive DSP functionality into just two rack spaces. "I love the new line of Danley amps," Sandor said. "The software is easy to use, and they make putting a whole Danley system together straightforward and painless. The processing functionality is quick and easy to use. There are presets for all the Danley loudspeakers and subwoofers, and they really make the boxes come to life. Importantly, the amps and the DSP sound great!"
"From the moment we deployed the rig," added Cortland Ingram, tech director for the church, "I knew we made the right choice with Danley. The smooth, sonic coverage, high fidelity and low-end punch instantly put a grin on my face."
Pastor Todd also added, "One of the longtime members of the church arrived late this Sunday and was forced to sit in a different location than normal. He told me that he and his wife said to each other they finally found a place in the sanctuary that sounded perfect and that they would be sitting there every Sunday from now on. Unbeknownst to them it was all due to the new Danley install and the even coverage throughout the space."
www.danleysoundlabs.com