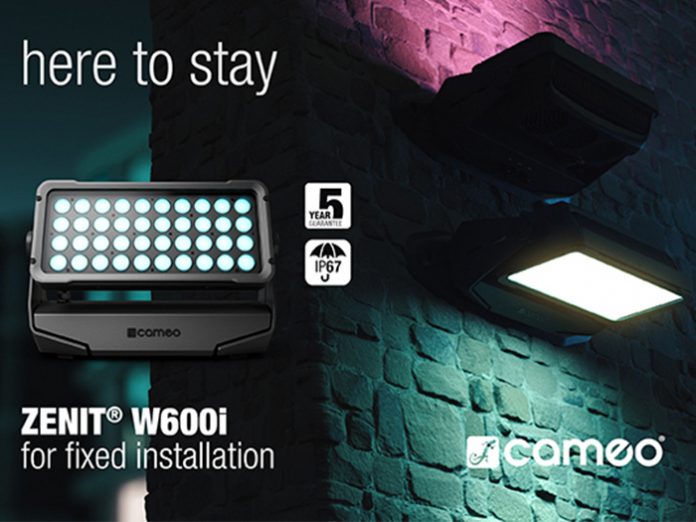 Cameo presents the ZENIT W600i, a new outdoor LED wash light for architectural lighting and fixed installation. Designed specifically for lighting and fixed installations, this version of the successful ZENIT W600 Wash Light offers architects, planners, lighting designers, and rental outlets an IP67-certified spotlight that impresses with its generous light output, quality of colour, and reliability in a wide variety of applications and environments.
No matter whether it's on to modern buildings, rough facades or impressive monuments, the ZENIT W600i powerfully and precisely projects up to 21,000 lm of light from a total of 40 15-watt RGBW LEDs on to any shape. Advanced 16-bit technology for high-resolution colour mixing and dimming enables lighting designers to produce intense, homogeneous colour and white surfaces that immerse even the largest buildings in perfect light. Combined with integrated colour temperature correction (CTC) and LED colour calibration, the selectable dimmer curves and optional simulated halogen lamp dimming behavior available on the ZENIT W600i make it an extremely versatile tool for professional architectural lighting.
With its IP67 protection rating, the ZENIT W600i is optimally protected, including against temporary immersion, and is ideally equipped for marine applications with its C5-M certification. DMX and RDM control are conveniently managed over a network, as the ZENIT W600i dispenses with plug-in DMX sockets in favor of waterproof PG cable glands.
The ZENIT W600i can be combined with a variety of specially developed accessories, which not only make the spotlight more versatile, but also protect it against external influences. In addition to symmetrical and asymmetrical diffusion filters (25°, 45°, 100°, 60°x10°) with tool-protected mounting and full and half anti-glare shields against unwanted stray light, the new, wired ZENIT display remote control enables full on-site control when configuring ZENIT installation devices. The ZENIT display remote control is connected using the supplied cable and has the same touch-sensitive controls known from the display of the original ZENIT W600.
To accompany the release of the ZENIT W600i, Cameo is also introducing an extended 5-year warranty on all installation products. This allows customers and users from a wide range of fields to benefit from the comprehensive Cameo quality promise.