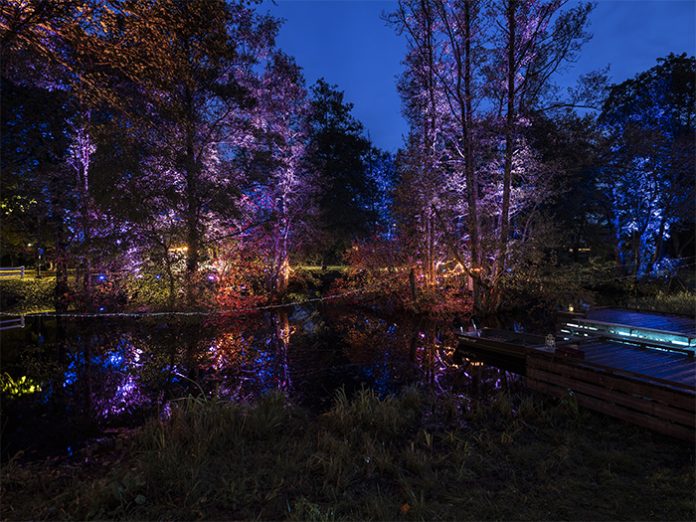 From 1 October to 7 November 2021, the small Swedish town of Alingsås transformed itself into a walkable lighting art installation. More than 70,000 visitors strolled along the three-kilometre-long light trail at the Lights in Alingsås outdoor festival, and they were enchanted by the many lighting art installations created by international designers.
As part of the Lights in Alingsås organisation team, the German company Irrlicht Veranstaltungstechnik GmbH was responsible for the festival's equipment management. One of the key pieces of equipment the company used was the ZENIT P40 LED-PAR outdoor spotlight by Cameo.
For the lighting project no. 3 – entitled "Brunnsparken", and created by US lighting designer Jessica Krometis – 36 ZENIT P40 IP65 outdoor PAR lights (including an elliptical 60° by 10° diffuser) were used to illuminate trees around a pond with uplights. "We receive the designers' concepts in the spring and try to implement them in the best way possible using the available spotlights," explained Dierk Hartmann, Managing Director at Irrlicht. "Generally speaking, only outdoor spotlights are suitable for Lights in Alingsås. We chose the Cameo ZENIT P40 for Jessica Krometis's installation because its power, LED configuration and beam angle correspond very closely to her specifications."
For the Lights in Alingsås festival, lighting installations are created that come in many different sizes and forms. The Lights in Alingsås team makes every effort to implement even the most unusual wishes in the shortest possible time. At the core of the entire project is a one-week workshop, during which lighting designers work day and night with their teams in order to bring their lighting art designs to fruition.
"During the workshop week, there is a never-ending stream of new ideas and suggestions for changes," explained Hartmann, who has experienced the week in person. Dierk is now working with the lighting designers for the ninth time. "It's important to react quickly and find effective solutions. Cameo's ZENIT P40 was perfect in this regard. All of the spotlights could be put into operation immediately, without external drivers and controls – this is the norm in the event technology world, but not necessarily in the architectural sector. On top of that, withstanding five weeks of Swedish autumn weather is certainly not a bad reference for any outdoor spotlight…"