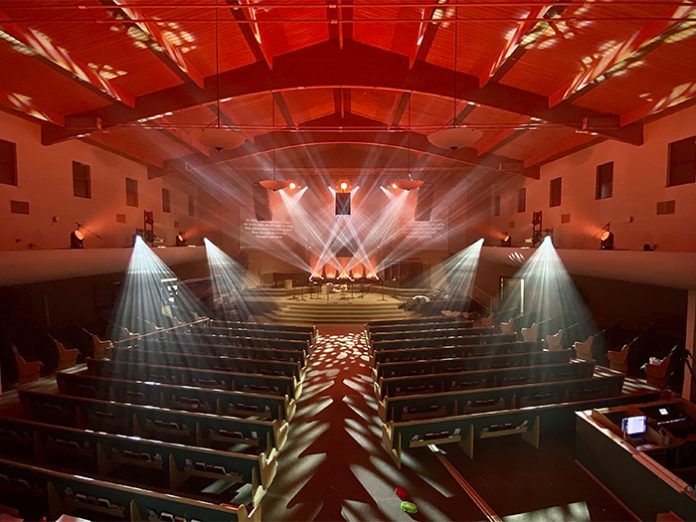 A modern church lighting system not only allows worship to be enhanced with colour, movement and texture, but it also ensures that pastors, preachers and worship leaders can be seen clearly by their congregation as well as those watching via the increasingly popular and powerful medium of online streaming. That was the motivation behind the recent renovation of the lighting system at Coast Bible Church in California, which commissioned the installation of more than 30 ADJ moving head luminaires. This flexible new system not only vastly increases the church's creative potential when it comes to lighting times of worship, but it also ensures that its new live-streaming initiative provides crystal clear video to those watching from home.
Known locally as 'the church on the hill', Coast Bible Church in South Orange County, CA was founded in 1967 and since then has grown into a thriving local church. Based from a modern purpose-built sanctuary, the church had already invested heavily in high-quality audio and video systems when, in early 2020, the leadership felt that it was the right time to bring their lighting system up to the same high standards.
To achieve this, the church brought in Bill Coblentz and his company Cinema Solutions. Established in 1998, the business provides audio visual design and installation services for both commercial and residential projects throughout Southern California. Bill rarely advertises, instead relying on referrals and recommendations, which is testament to the passion, excellent service and attention to detail he brings to every project.
A well-established ADJ dealer, Bill was confident that ADJ's range of high quality, reliable and competitively-priced lighting fixtures would be ideal for the Coast Bible Church installation. He was also aware that a project of this scale would need a lighting specialist to create the design for the system and creatively program it to allow the church's team of volunteer techs to make full use of its potential. Bill reached out to ADJ's sales team for advice on who to bring on board and they were quick to recommend ex-ADJ employee turned full-time freelance lighting designer and programmer Edgar Gonzalez.
Also based in California, Edgar was excited to take on the project as Bill was happy to give him creative freedom, so he drove to the church for a site visit and to meet with the church's Lead Pastor, Tom Bennett. From there Edgar used the Capture software to create a design and produced still images and video clips of various lighting looks from its visualizer to present Tom and the rest of the church's leadership team with a visual impression of what they could expect from the new system.
"The church's primary concern when we discussed their requirements on the site visit was key lighting and flexibility," explained Edgar. "Their previous system was outdated and basic, consisting of static washes with single-diode RGB LEDs. This meant that they were getting off-color whites and the lighting was focused on particular parts of the stage, so if a worship leader moved too far they'd hit a dark spot. They told me that nice warm white light for streaming services was important to them and they'd like the flexibility of being able to change focuses from service to service and even for different sections of the same service as the people on stage moved to different areas. It quickly became clear that the obvious solution was ADJ's Par Z Move. This offers the ability to zoom in and out as well as reposition on the fly, and also give that nice warm white color temperature they were looking for."
The Par Z Move is a moving head wash fixture that harness the power of a 200W COB warm white (3000K) LED engine and offers the versatility of a 9 – 43-degree motorized zoom range. Edgar's design for Coast Bible Church utilized twelve of these fixtures, with six hung from a truss above the stage and six more positioned further back in the sanctuary (three on the left and three on the right).
When it comes to mid-air effects and GOBO projections, the rig's primary fixture is the ADJ Vizi CMY300. This powerhouse hybrid moving head utilizes an impressive 300W LED light engine and functions interchangeably as a beam, spot or wash. An expansive feature set combines the fixture's signature CMY colour mixing with an additional colour wheel (including CTO and UV), two GOBO wheels and two rotating prisms as well as motorized zoom, focus and iris.
"The Vizi CMY300 has been one of my favourite ADJ products for a while now," enthused Edgar, "and it's a go-to fixture when I am spec'ing rigs. I've had great success with them on all of the projects I've put them in. They are super punchy with that 300W LED, I like the zoom range, and the GOBOs are great. I also like their modular design. Fortunately, I haven't had any issues on any of the designs that I've done where they've needed repairing, but the fact that you open the case by removing four screws and then remove two thumbscrews to take out a module shows how easy they would be to fix if anything ever did go wrong. And we demonstrated this to the client and they understood it was a real advantage to have such easy access to things like the CMY and GOBO modules."
Six of the Vizi CMY300 fixtures are hung from the main front truss, which allows them to project GOBO patterns down onto the stage as well as out over the heads of the congregation to generate aerial effects. A further six of the fixtures are positioned – three on each side – on narrow ledges that run down the side of the auditorium. To secure these, Bill constructed platforms that are hidden from view but allow the fixtures to be firmly bolted down. Making use of this existing design feature of the space not only helped to blend the lighting installation with the aesthetics of the building but allowed Edgar to program looks that completely immerse the room in light.
"As part of the presentation that I prepared for the church," continued Edgar, "I included a video recorded from Capture that showed the CMY's projecting large break-apart GOBOs that slowly rotated on the side walls, with the color set to a custom golden hue, and I think that's what ultimately sold them on the fixture. I gave the church the option of a lower-cost alternative, but they understood that having CMY color mixing would give them greater flexibility to create any look they wanted."
Interspersed with the Vizi CMY300s, both on the front truss and side ledges, are nine of ADJ's Vizi Wash Z37 moving head wash fixtures. Each incorporating 37 20W RGBW 4-in-1 LEDs, these potent washes offer motorized focus allowing for a variable beam angle of between 10 and 60-degrees.
"The original plan included a quantity of ADJ COB Cannon Washes mounted above the seating areas to provide variable-colored house lighting," explained Edgar, "however that part of the design had to be cut from the final project specification. Unfortunately, we were unable to source loading information for the pipes that were already fitted in the ceiling and the church didn't want to add any additional hanging points. So instead we went for the Vizi Wash Z37s, which can pan up and color the ceiling and also pan down and wash the room, which worked very well. They have a super punchy output, but what I really like about them is how instant that zoom is compared with other LED wash fixtures, in snaps in and out very quickly. What the church liked about them was that I could use the color temperature DMX channel to easily match them to the Par Z Moves so that they could be used as additional stage wash fixtures if needed."
The church's stage has a multi-tier stepped design and Edgar utilised the highest of these to position a ground package that can be used to shoot beams up over the heads of the band during worship sets. For this purpose he specified six of ADJ's compact yet powerful Focus Beam LED fixtures. Combining an 80W white LED engine with precision-engineered optics the Focus Beam LED outputs a razor-sharp 2.5-degree beam that can be customized using a dichroic colour wheel, GOBO wheel, two rotating prisms and a motorized focus function.
"I was pleasantly surprised by the Focus Beam LEDs, because beam fixtures still more commonly rely on discharge lamps. But the brightness from these compact LED-powered fixtures was very good. They performed very well and didn't look out of place alongside the 300-Watt CMYs when they were set to beam mode. For this project, the Focus Beam LEDs were the perfect choice as we wanted to specify an all-LED rig, to minimize the power consumption for the church and also keep on-going maintenance simple."
The ground package was completed by five ADJ Allegro Z6 fixtures, positioned between the Focus Beam LEDs at the rear of the stage. These quick-moving motorized linear LED fixtures feature six individually controllable 40-Watt RGBW LEDs and offer motorized zoom for a variable beam angle of between 4 and 32-degrees.
"This was my first time using the Allegro Z6 and I was impressed," commented Edgar. "When I zoomed them all the way in and tilted them down, they created really punchy mid-air effects, which created a good combo with the Focus Beam LEDs. But when I zoomed them out and pointed them up at the wall they created a nice even wash. I appreciated having individual control of each LED and the people at the church liked that I could use this to create some nice chasing patterns. To transition between the wall-washing and facing out positions, I programmed a 10 second sweep and the movement was nice and smooth."
To fill the space with atmospheric haze, Edgar specified two MAGMA PRIME haze machines from ADJ's new sister company Magmatic. A total of five DMX universes were utilized, four for the ADJ lighting and a fifth to control house lighting and automated shades using Crestron integration. The DMX signal was transmitted around the large sanctuary using Cat 5 cable via Elation Professional eNode 4s, while control is provided by ADJ's Compu Show software.
"The original proposition for control was an Obsidian NX2 console," stated Edgar. "But as I spoke to the church I realized that they would need something very easy to use because the operators didn't have a lot of experience with lighting. This meant that having them learn to run a console wouldn't be practical, so instead I setup and programmed Compu Show with a touch screen that made it very easy for anyone to select between the various different scenes – positions, colors, effects – and the people at the church really liked that."
Bill carried out the installation and Edgar programmed the system during the weeks when the church's congregation wasn't able to meet in their building due to COVID-19 restrictions. This meant that it was ready to debut last Sunday when easing of California's lockdown meant that the church were able to meet together again in person for the first time. This joyous occasion was the perfect opportunity to introduce this new creative tool for worship, which was received extremely positively by church members and leaders alike.
"The people at the church were amazed by the finished system," enthused Edgar, "and the complements I got from the pastor were great. He couldn't believe how good it looked and how much of an experience it could create in their facility. They wanted to bring more of a concert-style feel to their services and also to be able to do more with their youth, but they also wanted to keep their older members happy. So it was important that the lighting didn't distract from the existing feel of the space and from the worshipful nature of their services. I programmed some subtle looks that could be used to introduce lighting gradually to the main services, as well as some more full-on programs for concerts and youth events."
That's the beauty of a well-designed and implemented church lighting system, it is able to provide a worship team with creative tools to enhance the praise experience without detracting from the service or the aesthetics of the space. This is certainly what has been achieved at Coast Bible Church through a perfect synergy of Edgar's design flair and Bill's excellent installation work.