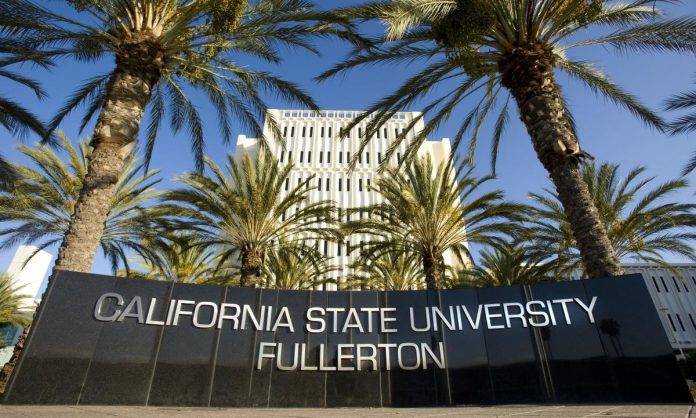 Tannoy VLS 30 loudspeakers installed at the California State Fullerton University Pavilion after the systems of two other brands failed to overcome challenging acoustics and provide the need for multiple configurations.
The project was overseen by California-based audio-visual specialist, DJL A/V, were tasked with designing an affordable system that can serve a triple dividable room and can be used in multiple orientations. DJL A/V modelled several designs before settling on a configuration that would provide the best sound quality and flexibility required.
This design consisted of eight Tannoy VLS 30 loudspeakers: two in each of the three dividable spaces and a fourth pair on the far south wall to allow seat space re-orientation. The VLS loudspeakers form factor allowed DJL A/V to mount them high enough to shoot over all of the backdrops and portable projections screens that are regularly used and still cover all the possible seating arrangements. Four wall-mounted touch panels allow full control of any or all zones from anywhere in the complex thanks to DSP Guru Don Cicchetti.
The design brief meant that obstacles were plentiful, with the need for multiple orientations being the component other brands failed to deliver. The previous contractor had opted for down-firing loudspeakers from a high ceiling to solve this problem, however, the sound quality was not acceptable. Additionally, system control had to be intuitive enough for a novice to operate.
Darryl Lima, president of DJL A/V commented: "Following a speaker shoot out, the Tannoy VLS 30's were an easy choice. As always, they provided extreme vocal intelligibility, their tight vertical pattern kept the sound in the seats and off the ceiling and they easily reached the back of the room. The low-profile design had a minimal aesthetic impact which was quite a bonus compared to some of the big box items we were up against."
Darryl added: "This was the third system to be installed in the "Pavilion Complex" and the first that worked and did a
remarkable job. The client was ecstatic with both the sound quality and extreme vocal intelligibility, and everyone was surprised at how musical the system is considering the fact that no subwoofers were used. The streamlined and modern look had much to do with the final approval of the project, which had been in the works for over a year. We find the entire VLS line up to be an excellent solution anytime a lower cost, high-performance loudspeaker is required."