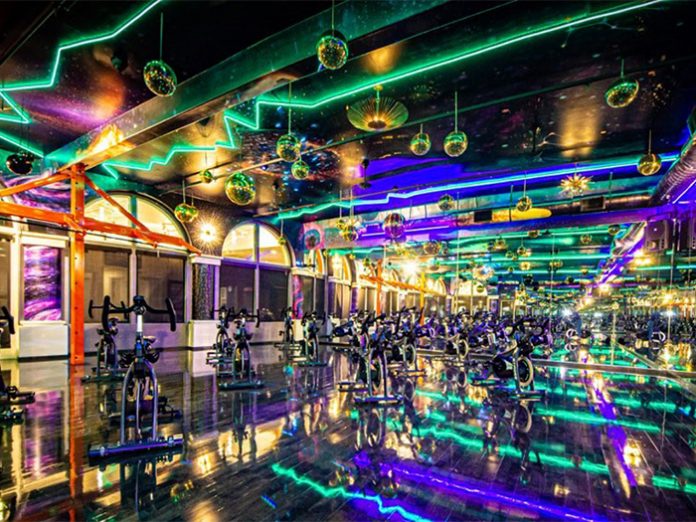 Located in Chico, CA, In Motion Fitness is well-established at the heart of a rapidly expanding community. Voted the city's best health club for 26 years running, the resort is dedicated to continually expanding and renovating the facilities available to its members. The latest chapter in this expansion was the renovation and re-theming of a former dance studio to create the Out of this World Galaxy Spin Studio, which officially opened on March 1st of this year. The unique space allows gym members to escape from their current reality for the duration of a spin class and boldly go to a place that could easily be what a dance club in the Star Wars universe may look like.
From the outset of the project, the owner and manager of In Motion Fitness agreed that lighting would be central to the design of the new space. They therefore brought in a specialist, Lindsey Glass of Glass Designs. A true creative, who just happens to be a fully trained glassblower, Lindsey has worked in the lighting industry for 21 years. Starting out at an electrical distributor, working in their showroom, she soon found her vocation as the person in the company who would speak to prospective customers about their intended vision and then recommend the best products for the task. When a change in buying patterns, caused by the rise of the internet, meant that the showroom was closed down, Lindsay setup her own business to allow her to continue doing what she does best. Glass Designs now takes on a wide range of consultation and installation projects – ranging from working with a local makers group to create installations for the Burning Man Festival to designing environmental lighting for galleries and salons.
"I've been in Chico since college," explained Lindsay, "so I've built up a reputation as the local crafty lighting person. There are a lot of people in Chico who have me in their phones as 'Lindsey the Lighting Girl', which is how I came to be involved in this project. I've really enjoyed working on it, because Carl Sommer, the owner, is incredibly creative and has a real serious vision, and the maintenance manager, Curtis Busbee, also has a construction background and is much of a maker. So, it's been a real collaboration between us all, with a lot of little meetings to discuss all of the details which come together to make it such an amazing space. The class doesn't have the level of pressure – of pushing yourself as hard as you can – that some spin programs do. Instead, this one is about escaping to another place during your workout. Which is why we came up with the space theme – taking people to another world. Obviously, the class is still very energetic, which is why we also decided to include the disco balls."
The room is relatively small, somewhere between 2,500 and 3,000 sq. ft., and currently houses 23 exercise bikes, although that number could be almost doubled if it weren't for COVID-19 restrictions. However, the space feels considerably larger than it actually is. This is because three of the walls are covered with floor-to-ceiling mirrors, which create the illusion of a sea of bikes spreading out in every direction. The space theme is introduced by a full ceiling wrap features planets and stars, which is punctured by zig-zagging slashes of neon-style LED tape.
A sign on the wall reads, 'Follow the Call of the Disco Ball', and – as impressive as the other features of the room are – it is definitely its mirror balls that instantly catch the attention of anyone who enters the room and create its signature look, which perhaps could best be described as 'Star Wars meets Studio 54'! Five of ADJ's M-2020 20" mirror balls are spread through the ceiling of the room, five of which are attached to M-101HD rotators. These are surrounded by eight additional 12" M-1212 mirror balls from ADJ as well as a number of gold mirror balls sourced from another supplier.
"I really wish ADJ made gold mirror balls," stated Lindsey, "we tried three different companies and none of them were anywhere near the quality of the silver ones we bought from ADJ. They are really well built, with the mirror facets attached very securely to the ball. The effect they create in the space is awesome, it really does look incredible. We even managed to paint one black, for a blackhole, which worked out pretty well too. We've also bought one of the huge 40' M-4040 balls to be the center piece of another newly renovated space at In Motion, which is the next project I'm working on for them."
Despite Lindsey's extensive experience in lighting, her previous work had been predominantly in the commercial and static installation sectors. She therefore set about looking for a company that could not only supply lighting fixtures to illuminate the mirror balls, but could also provide sales support to help ensure she selected the correct product for the task.
We chose the PinPoint GOBO Color, which was an undisputed winner. The intensity of the output and variable beam angle were perfect for what we wanted to do.
"I called so many companies looking for technical design assistance and, even knowing exactly what I wanted, found it very difficult to speak to someone who knew what they were talking about and were willing to help. That is until I called ADJ and got to speak to Edgar [Bernal, Regional Sales Manager], who was super helpful and guided me through the process of selecting the right fixtures for the job. We chose the PinPoint GOBO Color, which was an undisputed winner. The intensity of the output and variable beam angle were perfect for what we wanted to do. Because the ceiling was plaster, we didn't really have the option of moving the power, so had to work with what was already there, which limited our fixture placement. And we also really didn't want any overspray, we wanted all of the light to hit the ball. The PinPoint GOBO Color allowed us to do that beautifully at the distance we had to work with. The effect really is amazing."
A total of four PinPoint GOBO Color fixtures are installed in the space, two to illuminate a single central M-2020 mirror ball and two more that pick out one additional M-2020 each. Another key consideration for Lindsey – as is the case for most installation projects in today's climate – was energy efficiency. Fortunately, this is another area where the PinPoint GOBO Color excels. Featuring a potent yet economical 10-Watt quad color (RGBA) LED light source, this versatile fixture is supplied with four standard GOBO patterns and a frost filter to diffuse the beam to create a wider wash of light but can also be used with a custom GOBO, or none at all, which is how Lindsey utilized it on this project. Its variable angle bracket can be mounted in a number of different ways, further adding to the flexibility of the fixture. A powerful magnet allows it to attach directly to metallic surfaces and an X-clip can be used to attach to suspended ceilings for temporary applications, while for permanent installations it can be secured in place via a bolt. The unit also offers an internal rechargeable battery, for short-term use, but can be connected to a power supply using the supplied low voltage adaptor for static installations such as In Motion's Spin Studio.
"Two PinPoint GOBO Colors lighting a single 20' mirror ball creates an amazing effect," enthused Lindsey  "it perfectly captures the ethos of what Studio 54 was all about! That's definitely what we wanted to create in the space – a dance party vibe – but we also had to keep reminding ourselves that it isn't actually Studio 54, it's a still a gym! So we can to make sure that we didn't create dizzying effect for the people taking the class by putting in too much movement. When the roof was white, just one lit ball dominated the space, but now that it's wrapped in black some of the light is absorbed which meant that we could light three of the mirror balls without overpowering peoples' senses. I think we've got the balance just right, and the response from the first few classes to use the space has been extremely good."
It's hardly surprising that the initial reaction to the Out of this World Galaxy Spin Studio from In Motion Fitness' members has been overwhelmingly positive, as every detail of the room has been carefully considered by Lindsey and the resorts' in-house creative team. Its fascinating juxtaposition between futuristic space theming and retro mirror balls creates a unique atmosphere that is ideal for allowing participants to escape into a completely different world, even if it is just for the time it takes to do a spin class.