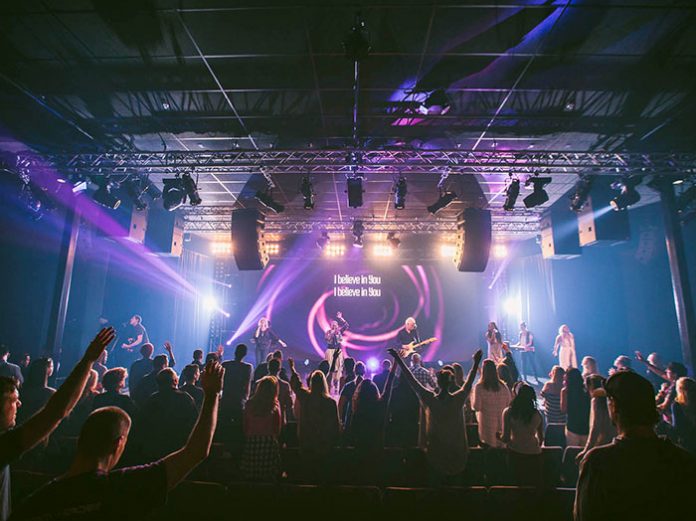 C3 Church offers it members a choice of three campuses to choose from in the San Diego area. In an effort to keep the quality of their sound reinforcement above reproach, they recently contracted Sound Image to design and install an Adamson S10 system at their Central Campus worship centre.
Sales Engineer for Sound Image, Brandon Rinas explained further: "When they bought the building they opted to rent a system to get a better handle on what worked best in the space. The room is very wide, not very deep and has a low ceiling, so they definitely needed something that could provide focused energy. At the same time the church was interested in stereo coverage with every seat getting the same audio experience."
The review/demonstration process was fairly rigorous with the church evaluating a number of sound reinforcement systems before making a decision. Fortunately, James Hurley, the new Technical Director for the Central Campus, was familiar with Adamson from his time spent with Hillsong Church. Once they heard the S10 rig, they knew they had found their solution.
Brandon later added his opinion on the sound system's impressive quality: "It's an amazing sounding box, because the room is so wide, we opted to install four line arrays far left, left, right and far right, in order to provide the consistency the church required."
The far-left and right arrays are each made up of five S10 while the left and right arrays consist of six S10 enclosures. The mix is done in stereo with the far left array receiving the right array feed and the far right array receiving the left array feed. Brandon added how dropping the far arrays by one box eliminated any issues with sound bouncing off the side walls, whilst keeping the sound as focused as possible for vocal intelligibility purposes.
The S10 enclosures feature Adamson's Controlled Summation Technology (CST), an innovative design concept, which eliminates interference in the pass-band through clever transducer deployment and allows the high-frequency sound chamber to retain its exit size, maintaining superior directivity control. As a result, the sound stays off the walls providing both vocal clarity and sonic quality.
When determining subwoofer placement, it was clear that hanging a centre cluster over the stage would bury it in low end. The solution was to create two four-box cardioid end-firing arrays, each made up of four S119 subwoofers. Each flown cluster is placed between the left and far-left arrays and the right and far-right arrays, with the front box positioned over the front row of seats.
Brandon concluded that Adamson has a beautifully created preset for using subs set up this way. He spoke of how amazing and terrific it sounds through such a talented installation team at Sound Image – headed up by Dave Paviol and Bob Delson. The church is beyond happy with the project's end result.