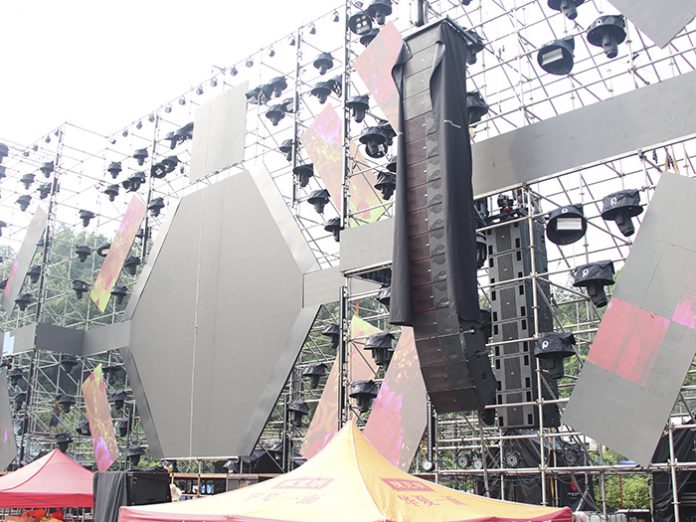 Audiocenter and KUCAI Cultural Media teamed up to give people on-site an impressive experience at BUD Music Festival 2019 in Jiangxi.
The festival lasted more than 8 hours from day to night, many famous top 100 DJs gathering here and thousands of people enjoying themselves.
The requirements of the audio system for this music festival are extremely high. One is that audio system needs to create circle-like exhilarating sound. Another is that it should be shown various emotions in different music styles. Only by creating these powerful shocking sound waves with high-definition sound quality can ravers immerse themselves in this electronic music.
In order to ensure high-quality sound for the festival, Audiocenter invited Wu Xiaodong, a well-known and experienced sound designer in China, to carry out system design and on-site control, and invited POP, a Thai certified system engineer of Audiocenter, for System Alignment.
"For the sound field design of this project, the performance of sound pressure level on the scene is very high, especially for the performance requirements of ultra-low frequency bands. Therefore, the goal we need to reach is that the full band covers evenly and achieves perfect sound performance." Wu began.
In the previous system design, the Audiocenter team and two certified system engineers managed to figure out the most suitable hanging position, height and angle and the best placement of the ultra-low frequency speakers, through repeated adjustments and comparisons of EASE Focus, the acoustic simulation software.
For the preparation for the festival, Audiocenter intended to utilise an SSL mixer, renowned for its best quality of boosting sound in audio industry.
Wu remarked:"In this music festival, we choose the Line Arc Subwoofer configuration method for the ultra-low frequency arrangement. Audiocenter's ultra-low speaker system performs excellently. Only one of this has been taken up by 8 processor channels for time delay. On the 70-meter position of the mixer, sound pressure on-site is continuously up to 138dB without any distortion measured by C-Weighted. The middle and high-pitched sounds are crystal clear. The low frequency band is also flexible and appropriate."