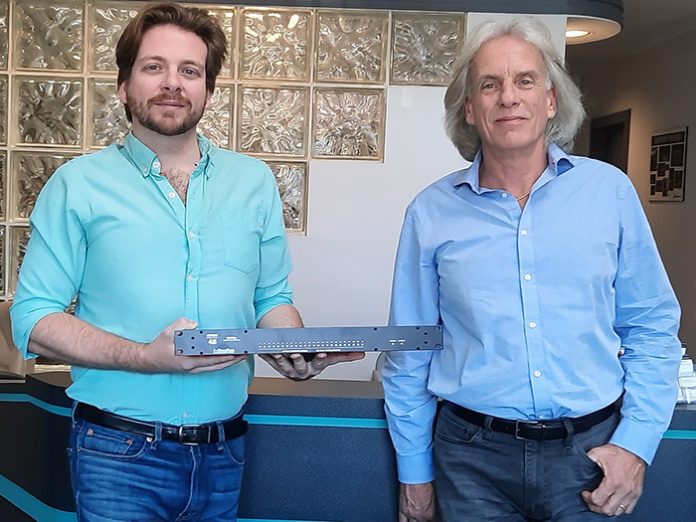 BroaMan, the industry leader in high bandwidth fibre networks for professional, broadcast
quality Video, Audio and Data has appointed Contact Distribution as its exclusive Canadian
distributor. Contact Distribution specialises in sales and support for the most discerning and
technical brands in the professional audiovisual industry, working with the country's top
consultants, designers and integrators to achieve world-class experiences with flawless
execution.
Contact was first introduced to BroaMan's sister company Optocore in 2005. Since then
both companies have enjoyed a successful working relationship and participated together
on many large projects ranging from installations in performing art centres such as Massey
Hall, Roy Thomson Hall and the National Arts Centre; sports venues including Rogers
Arena, The Scotiabank Centre and Place Bell; and both special events and installations for
Broadcast including the 2010 Vancouver Winter Olympics.
"When we started with Optocore, many in the industry hadn't taken those first steps into
digital networking," said Bill Coons, director of Contact Distribution. "We are now at a point
where not only system designers and operators are more accepting of fibre solutions but
fibre is a sheer necessity due to increasing channel counts, numerous different mediums
and formats and the expanding production needs of events and shows to draw in and
captivate audiences. BroaMan products are the next evolution of technology and people
are ready to make that jump."
This extensive knowledge base and relationship puts Contact in excellent position to bring
BroaMan's unique and flexible fibre based solutions to the Canadian Broadcast and
Installation markets. BroaMan products are specially designed to convert broadcast quality
video to fibre, including 3G, 4K and now 12G-SDI. Multiplexing and matrixing are also
possible in different formats and channel counts. Multiplexed Broaman streams can carry a
2GB Optocore network capable of 1024 audio inputs and unlimited outputs that support
analog audio, AES, and MADI as well as IP and serial data transmission. For over 25
years Optocore products have proved the reliability of fiber transport by building rock-solid
equipment, and BroaMan builds on that very platform bringing the same experience and
dependability.
BroaMan Sales Distribution Manager, Dawid Somló, assisted with the transition. "Contact
Distribution is a well-known and highly-respected company in Canada," he stated. "They
have distributed Optocore products successfully for many years, developing a vast
knowledge base in the field of fibre optics. Due to the close cooperation it was entirely
logical to also hand over the distribution of our video and data fibre solutions, represented
by the BroaMan brand. The fact that it is in the hands of a team who can be trusted, will
provide great benefit to customers from the broadcast, installation, sports and other
markets, which will be reinstated after COVID."