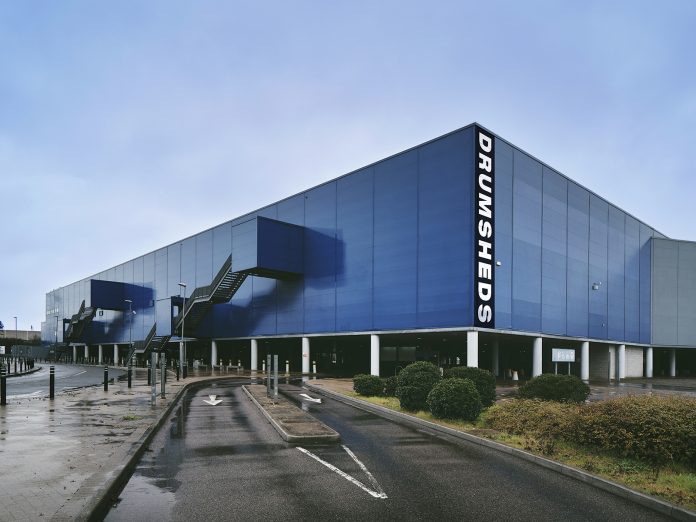 Introducing Drumsheds – a new 608,000 sq ft space presented by Broadwick, who has a founding belief in the power of 'live', with the objective to always inspire, connect and create massive impact through music, culture and space.
Promising to be more impactful than anything London has ever seen, Drumsheds will open this September in a vast industrial warehouse as the latest edition to Broadwick Spaces, adding to its extensive portfolio. 
The Drumsheds space will be a dynamic and impressive hybrid home for culture in London, hosting a cultural programme with a corporate offering – open to hire for a range of purposes, including corporate, brand & community-focused events.
For Broadwick, who are the team behind award-winning spaces including Printworks, Magazine, Landing 42, Depot Mayfield and more – Drumsheds is the next step in their evolution, as they cement their place as a leader in hybrid spaces.
Drumsheds finds its home in a vast and sprawling warehouse in North London's Meridian Water zone.
Across 608,000 sq ft, Drumsheds is a staggering space that leaves a lasting impression. Broadwick is following on from its previous Drumsheds space, and transforming the name into a totally new concept (and location).
The industrial building has a machine-made feel, with soaring ceilings and expansive rooms that can hold up to 15,000 guests.
As always, Broadwick will leave features and the layout of the unique warehouse intact providing access to old lift shafts, loading bays, sprawling floors and machinery as the backdrop to this impressive space.
Simon Tracey, Broadwick CEO said: "We are proud to welcome Drumsheds into the Broadwick Spaces portfolio, at 608,000 sq ft it becomes our largest venue to date and provides unlimited opportunities for our clients.
Set to be one of London's most impactful cultural spaces, Drumsheds offers boundless potential for filming, fashion shows, product launches and more. A space for brands looking to disrupt the norm."
Available for hire via the group's Spaces company, the venue's specifications and layout are fluid, with malleable, hybrid areas that will be moulded for multiple purposes including large-scale music shows, film sets, fashion shows, brand and corporate events and beyond. 
The Main Space of Drumsheds: X-Room is one of the largest warehouse spaces in London. A raw, rare, industrial space.
Soaring ceilings, sprawling floors, 10,202 sq m of versatile, hybrid and multi-functional venue space that can accommodate up to 15,000 people and a variety of large-scale activations, all with an in-house stage, PA and rigging, and dressing rooms.
Drumsheds Second Space: Y-Room can accommodate a capacity of 5,000. Slightly smaller boundaries, same raw, industrial feel. The space boasts a flexible layout and a range of facilities, including a stage, PA system, power, and rigging systems.
It is perfect for standalone, ticketed culture and music right through to fashion shows, filming or something else entirely. 
Drumsheds is all about size, but that doesn't mean it can't do intimacy. Z-Room is where things get up close and personal – with a capacity of 1,000. Offering a smaller, more intimate space, the room provides an excellent connector between the other two spaces.
Equipped with power, and rigging systems, this area is perfect for more exclusive events or functions requiring a more intimate atmosphere.
A large 5,000-capacity area located on the second level of Drumsheds, The Gallery is the perfect space for all hire types and as an additional hire to rooms X, Y, and Z. At 6,174 sq m it is the perfect blank canvas space. Facilities include full power and rigging. 
All of the unique spaces have scope for high scale, experimental production & lighting, allowing for clients to craft a user experience catering to their specific needs. 
DRUMSHEDS is the latest addition to Broadwick's SPACES offering, boasting a portfolio that includes some of the UK's most impressive experience-led brands including Printworks, Beams, Magazine London, Depot Mayfield all within their collections.
Broadwick is driven to create real impact through pure yet powerful live experiences in unique spaces.
Printworks hosted many of London's most vital cultural events in its time, from Fashion Week events including Raf Simmons, A Cold Wall, Mulberry, plus provided the backdrop for film sets including Warner Bros' Batman. 
Now closed for redevelopment along with the surrounding area, Broadwick plans to reopen Printworks in 2026.
Located in North London's industrial Meridian Water zone, Drumsheds will be easily accessible via road, tube, rail, and bus. The space also boasts significant outdoor space perfect for unit base or parking requirements. 
Broadwick will be working with the local authorities on outreach to support the surrounding community with employment in the new space, in addition to schemes such as free tickets for previous employees of the space so they can enjoy the venue in its new iteration.