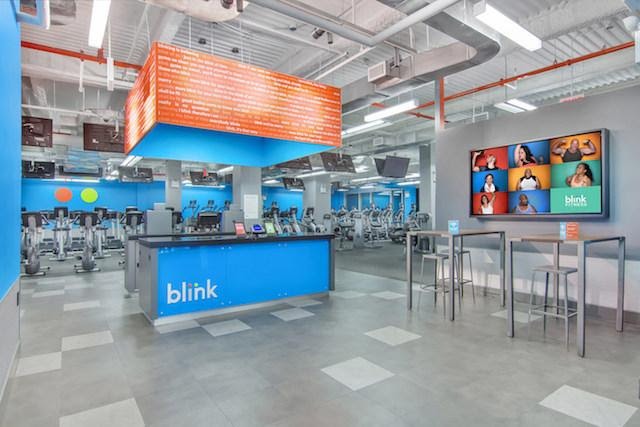 With 50 locations, mostly in the New York Metropolitan Area and a goal of 300 locations by 2020, Blink Fitness is growing quickly. The low-cost subsidiary of Equinox Fitness, Blink gyms focus on service and cleanliness without the extras found at the luxurious Equinox gyms. You won't find a sauna or a steam room, you aren't provided with a towel. But you do get high-quality service and equipment in a clean, friendly environment. And of course you get workout music which is carefully selected to provide the beat and level calculated to keep you motivated.
In this environment, it's important that the staff be able to easily get music into the sound system without having to think about the technology involved. To that end, the team at system integrator Advance Sound of Farmingdale, New York, designed sound systems for Blink gyms that accept Bluetooth input via Attero Tech unBT2A single-gang, Decora style, Bluetooth audio receiver wall plates.
"In addition to the large rooms, some Blink locations have Small Group Training, or SGT rooms," offers Advance Sound Senior Engineering Manager Thomas DePace. "Sometimes the clubs have two of these group fitness rooms, one with a wooden floor for yoga and the like and another equipped with indoor bicycles for spin classes. The Attero Tech unBT2A is a very user-friendly device that allows group fitness instructors to come in, connect their phones using Bluetooth and play tunes from the phones."
The unBT2A provides Bluetooth stereo audio input, stereo balanced audio over CAT5 cable, customisable device naming, remote pairing activation and remote control and status monitoring via RS-232. Bluetooth is a superior solution to hardwired audio for Blink's group rooms, DePace points out, because if someone is on a bike or running in a class, cables can get in the way, break, or simply disappear. At the same time, with so many clubs, Blink wants district managers and individual venue managers to be able to work with the sound system and troubleshoot problems as much as possible without requiring outside help. So the Bluetooth solution needed to be easy to use.
"The Attero Tech unBT2A is integrator-friendly as well as user friendly," praises Thomas. "We like that the only thing the user touches is the Pair button. And in addition to offering easy connectivity, the unBT2A lets us name each device, so when the clubs have two fitness rooms, instructors know which room they're connecting to. Other Bluetooth solutions we tested did not offer device naming."
The main sound system that Advance Sound installs in Blink gyms employs a Dante network managed by a pair of Symetrix Prism DSPs. The specific loudspeakers selected for Blink's systems vary depending on the design of each space, but in general DePace's team specifies JBL Control-series pendants or ceiling speakers.
Although the SGT rooms are tied into the main Dante network, the sound in each room can be independently operated. "With the DSP, we are able to set the room levels so they're repeatable and sustainable for every group," Thomas notes. "It's not like each instructor changes the settings and you don't know what they did. And when there's no group in the space, the gym manager can send audio from the main system into the SGT room. So you can use an instructor's phone as a source via the unBT2A or tie the SGT room into the main system."
Sound system reliability is mission-critical at Blink. "The sound system is so important to these spaces you can't put a 'scheduled for repair' sign on it," Thomas points out. "So our Bluetooth solution had to be reliable. We tested everything from a $30 Bluetooth solution to a $100 solution and nothing was as dependable and usable as the Attero Tech unBT2A. With other devices, you would lose connectivity, especially if the instructor was jumping around and had their phone in their pocket. But the Bluetooth signal from the Attero Tech unBT2A was very dependable. We did a line-of-sight test, and we were able to get a strong Bluetooth connection to the unBT2A at a significant distance, so we were more than comfortable that the end users's Bluetooth device would stay connected."
The Attero Tech unBT2A Bluetooth system has fully proven itself at Blink gyms. "Blink's staff and management are very happy with the system's Bluetooth reliability and ease of use," confirms Thomas. "Blink is growing, and as they add new locations, we'll continue to install unBT2As in their group rooms."