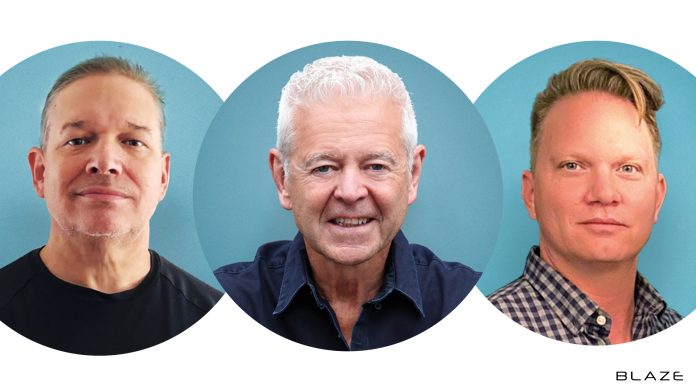 Blaze Audio, a manufacturer of professional audio solutions for the commercial and performance install markets, has announced the addition of three new sales professionals to the company's roster for the Americas.
Darrell Champagne, James Duvall, and Rob Howitt—all seasoned professionals—will be tasked with building new and maintaining previously established long-term relationships with dealers, consultants, and end-users.
This involves coordinating sales, account and rep firm management to ensure growth within each territory, as well as in-person product demonstrations and training at trade shows and similar events. All three gentlemen have been with Blaze Audio since May 2023. 
Darrell Champagne will serve as Blaze Audio's new National Accounts Manager. Champagne has an extensive background that is expected to serve him well in his new position with Blaze Audio.
Prior to joining Blaze Audio, he served as Senior Vice President of Operations at Stingray, a global music, media, and technology company active in TV broadcasting, streaming, radio, business services, and advertising.
Additionally, he spent 17 years with PlayNetwork, Inc., where he was involved in AV integration and professional audio solutions design and related services. Equally noteworthy, he was the Sales Manager for Professional Products and Large Venue Systems at Bose Corporation earlier in his career. 
James Duvall is Blaze Audio's new Central Regional Sales Manager. In this capacity, he will manage sales and foster new business throughout the central time zone.
Before joining Blaze Audio, Duvall served as the Solutions Specialist at Campion, which represents manufacturers of Security, Audio Visual, as well as Controls and Infrastructure products.
He also spent 14 years operating his own business, Creative Engineering and Solutions, where as an audio engineer, he worked with high-profile clients on a variety of projects, including audio designs, live recordings, and events coordination.
Duvall also served as the Central Regional Sales Manager for Vue Audiotechnik LLC, a professional audio company involved in loudspeaker design and manufacturing. 
In his new capacity with Blaze Audio, Rob Howitt will serve as the company's Northeast Regional Sales Manager.
Before joining the Blaze Audio team, Howitt served as the Regional Account Manager – Pro AV New England for ADI Global Distribution, a leading security and low-voltage distributor, enabling dealers and integrators to operate more efficiently and offer reliable services.
Prior to this, Duvall served as the Regional Sales Manager – Installed Sound Division (New England) for AudioPros, a manufacturer's representative firm serving the six New England states as well as upstate New York.
Earlier on, he also worked for New England Technical Associates— a manufacturer's representative firm—as a Territory Manager in the Contractor Sales Division. 
Kevin Wilkin, Blaze Audio's Executive Sales Director for North America, commented on the company's newest additions: "Darrell, James, and Rob each have extensive backgrounds in the Pro AV market that, I believe, will serve them well in their new positions with Blaze Audio.
"I have every confidence that their experience will help us take Blaze Audio to the next level as we strive for more opportunities to grow our business. On behalf of the entire Blaze Audio team, I'd like to say, 'Welcome Aboard.' We look forward to working with our new team members as we strive to expand Blaze Audio's presence."