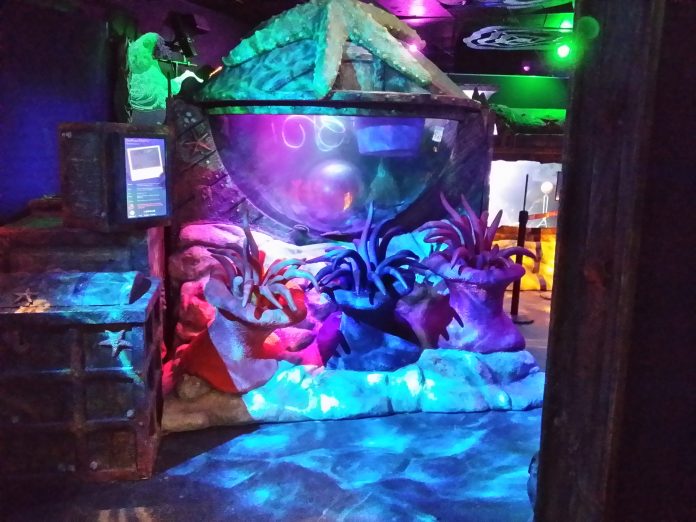 Big Box Digital Media has lent added colour and sparkle to two

 

of the UK's most popular tourist attractions. The company has installed powerful colour changing LED fixtures from CHAUVET DJ at Madame Tussauds Wax Museum in Blackpool and at several Sea Life Centre locations.

 

 

At Madame Tussauds, the Intimidator Spot 255 IRC LED moving head positioned at the museum entrance creates a colourful and exciting welcoming atmosphere for guests. With its built-in automated programmes, selectable pan and tilt, dimming, split beam, 3-facet prism and gobo effects, the Intimidators provide the museum with an endless variety of engaging looks for its entrance area.

 

 

At Sea Life Centre, Big Box installed a variety of fixtures including the Abyss LED 3.0, COREpar 40 USB and Intimidator Spot 255 IRC. The installation comes as part of a wide-ranging visual overhaul to provide renewed colour, energy and atmosphere at the aquatic attraction.

 

In keeping with the nautical theme of the UK's most popular aquarium chain, Big Box specified a total of six Abyss 3.0 fixtures to create murky underwater style effects throughout a number of rooms. Thanks to their water effect imitating colour wheels, the Abyss fixtures provide fitting visual accompaniment to the marine atmosphere within the aquarium.

 

 

To complement the Abyss fixtures, Big Box specified a collection of COREpar 40 USB fixtures for general all-purpose lighting. The saturated spectrum of colours and ultra-wide wash of the COREpar 40 USB fixtures ensure excellent wash lighting effects within several exciting areas including the Octopus, Stingray and Seahorse enclosures.

 

Just as they have at Madame Tussauds, the CHAUVET DJ fixtures are contributing to a more immersive atmosphere at Sea Life Centres. Engendering this kind of engagement is at the heart of Big Box Digital Media's lighting philosophy.