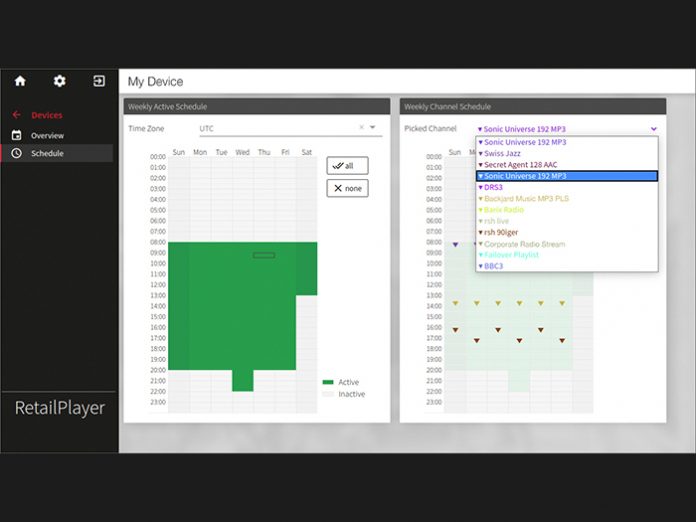 Audio over IP leader Barix is announcing new upgrades for its cost-effective RetailPlayer multi-site background music streaming solution that enhance its versatility, bolster fault tolerance,and expand the network connectivity options for its hardware endpoints. New Wi-Fi support is complemented by extended scheduling and failover capabilities along with automated or manual playback of pre-recorded announcements.
Offering the latest background music delivery technology on the market, the scalable RetailPlayer solution lets retail, hospitality, and corporate customers easily and securely manage streamed music and messages across any number of locations over the internet. Robust hardware playout devices at the receiving sites feature advanced buffer technology for fast channel switching and resilience to varying internet performance. Meanwhile, the cloud-based or customer-hosted RetailPlayer Portal provides centralized configuration, management, status monitoring and stream switching through a web browser or mobile device.
New channel management functionality in the RetailPlayer Portal enables playout devices to automatically switch between multiple audio streams on custom-defined schedules. For each hardware endpoint, administrators can schedule programming across a week by defining a playlist of which stream can be heard at various times.
"This enables customers to easily accommodate varying visitor demographics at different times or to create different moods," said Davide Nossa, Product Manager, Barix. "For example, a location may be frequented by different age groups in the evenings or on weekends than during weekdays, or they may want to create a relaxing ambience during the day but a party atmosphere at night. Users could already manually switch streams on individual hardware playersthrough their mobile devices, but now they can schedule it to happen automatically. They can also now adjust the volume of each channel to handle variance between sources."
Another major update to the RetailPlayer system enables scheduled or manually triggered playout of file-based messages and announcements. Recorded audio files can be uploaded to the centralized RetailPlayer portal for automatic distribution to the local storage of specified endpoints. The messages can then be played out at scheduled times, repeatedly at a specified interval, or when triggered via assignable buttons in the mobile interface.
"A common use case would be announcing that a retail store is closing in 30 minutes," explained Nossa. "During the COVID-19 pandemic, we have also received requests to play recurring messages every few minutes to remind customers to maintain physical distancing. Manual triggering of recordings could be used for something as crucial as emergency notifications, or simply for visitor experiences such as playing a birthday song while a cake is delivered at a restaurant."
The latest updates for RetailPlayer hardware endpoints also add support for an optional USB Wi-Fi adapter to existing wired Ethernet connectivity. Last but not least, a new USB failover feature automatically switches audio to a playlist of music files on a connected USB drive if the live audio stream is interrupted, complementing the existing ability to failover to an internally-stored playlist or alternative stream.
"Barix has earned its excellent reputation for listening closely to our customers, and many of our latest enhancements are in direct response to requests from integrators and end-users," said Nossa. "These updates are another great example of how we are constantly adding features and innovating with RetailPlayer to keep it at the forefront of the market."
RetailPlayer's new Wi-Fi support, USB failover, scheduled channel switching, and volume management features are all available immediately, with file-based message playout slated for release in September.