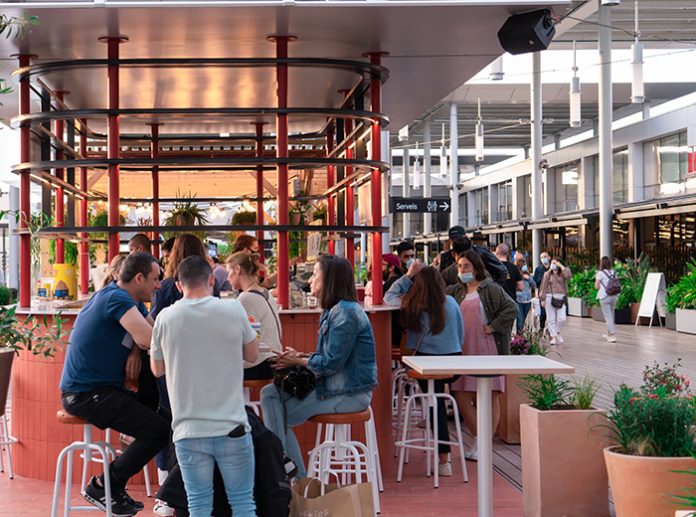 'La Citi' at Barcelona's popular La Maquinista retail centre is not the kind of dining experience one normally expects to find in a shopping mall. The outdoor rooftop space is a celebration of culinary diversity and quality pop-up and food-truck dining, with a choice of the type of vendors more commonly found at festivals and street food markets.
Creators of the 1,000 sq metre specially designed experience have spent years meeting in food-truck markets and directing some of the coolest restaurants on the city's culinary scene. Gastronomic kiosks and pop-up stalls feature vendors like the Van Van Chicken Bar, Chivuo's, The Fish & Chips Shop, Mosquito Asian Tapas, Dos Coyotes, Taiyaki Born Japanese waffle bar and Café Crem specialty coffees, as well as a bar and a cocktail counter. Billed as a 'street food and cultura urbana' La Citi also presents 'cultural workshops' for kids and adults, as well as entertainment with vinyl only DJ sessions!
Sound is a major feature of the La Citi experience and the creators took special care to ensure that it too is of the highest quality. Amate Audio's new G7 premium commercial audio loudspeaker was selected to provide a substantial BGM installation covering the site. Required to run constantly 12 hours a day, seven days a week, performance quality and reliability were equal operational considerations.
The G7 combines the highest standards of robustness and reliability required of a commercial audio loudspeaker with levels of sonic performance rarely, if ever, attained with an injection-moulded design. Key is a meticulous matching of premium custom components, within a proprietary mould extensively R&D'd by Amate Audio's design team, providing an extraordinarily advanced internal acoustic architecture; as well as the highly distinctive styling. The resultant output levels and frequency response are comparable with larger wood constructed cabinets with considerably larger drivers; resulting in a lesser number of cabinets being required in an installation and a level of bass response that does not necessitate the addition of sub bass cabinets. Control rack components for the entire system comprises two Amate Audio HD4000 high dynamic Class H power amplifiers and an LMS608 loudspeaker management processor, the company's next generation, most powerful DSP controller.
Project managing the installation, Amate Audio's Industrial Designer, Guiu Llusá, who was integral in the inception and design of the G7, explained that selection of the loudspeaker for La Citi's installation was decided the basis of it fulfilling a combination of key criteria: "The G7 was chosen for its exceptional aesthetics and sound quality, as well as ease of installation and the capability of the design to withstand inclement weather."
La Citi has also purchased a sound reinforcement system for its DJ events, comprising two Amate Audio's new X102FD active, 3000 W bi-amped, two 10-inch compact point-source systems, two N18W self powered subwoofers and two N26 active, self powered two six-inch point-source systems.