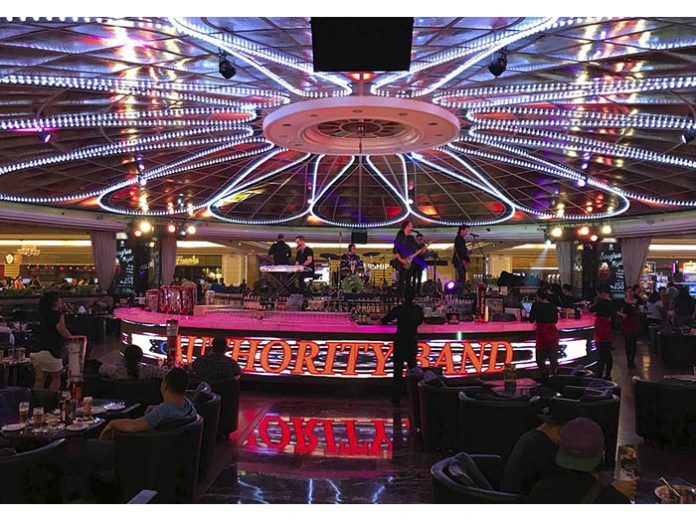 Resorts World Manila (RWM), an integrated resort in the Philippines, which features a 360° bar, dance floor and audience seating have recently installed a Clair Brothers system.
Ernie De Leon, Director of Entertainment Operations, RWM at Bar 360, said: "We want our guests to experience the real live sounds of our bands. The challenge is we're in the middle of a gaming floor, so we also need to consider our other guests outside the bar. Wayne Grosser, managing director of Clair Brothers Australia, in conjunction with Systech Lighting Controls Incorporated, did a great job with the installation to make sure sounds from our stage are contained inside the bar area by levelling out volume and controlling sound distribution to prevent spillover. This Clair Brothers system is exactly what we've been looking for. No other gear required."
Bar 360's FOH system is run in mono and consists of eight R2D-III bi-amp, 12-inch, two-way speakers with four CS18-II single, 18-inch subs positioned on the floor at the four column positions. A side marble area has two R2D-III bi-amp, 12-inch, two-way speakers that are time-aligned to the stage centre – the same as the main FOH system. The stage monitors consist of four FF2-HX's, along with four Clair Brothers 2000W D80:4L amplifiers with Lake processing.
"The intelligibility, clarity and impact we've been looking for in a sound system are achieved with our new system," explained Ernie. "In fact, this is the third Clair Brothers system installed at a venue at Resorts World Manila. The results speak for themselves and so many customers have made it a point to comment how clear the sound is. And that's the goal: satisfied customers."
Ernie concluded: "Bar 360 is one of Resort World Manila's most popular venues, where top performers are showcased every day and night. It is therefore imperative the sound quality of our speakers is up to par. We are very pleased with our new Clair Brothers system. When it comes to loudspeaker systems, as far as I'm concerned, why consider another brand?"