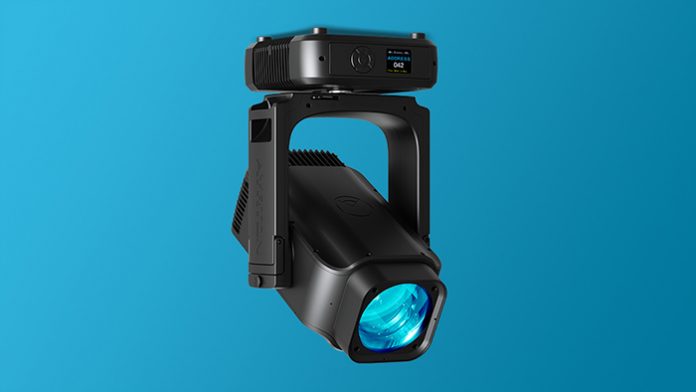 The IP65-rated Rivale Profile is the newest fixture in Ayrton's Classical IP65 3 Series, and the first ultra-equipped luminaire in its brand new 'ULTIMATE' series.
All ULTIMATE models are perfectly homothetic, sharing common features and delivering previously unimaginable weight-to-output ratios.
Developed for mixed use indoors and outdoors, and in all conditions, Rivale Profile, with its unique visual signature, is unparalleled on the market.
Weight determines performance, and Rivale Profile weighs only 28kg, yet is capable of outstanding performance unprecedented for a product in this category.
With continuous rotation of the pan and tilt movement, Rivale Profile allows you more creativity and freedom in your lighting design.
Rivale Profile is fitted with a brand new high-efficiency 450W sealed mono-block LED module, calibrated at 6500K, that offers a luminous flux of 30,000 lumens with optimal positioning on a black body to obtain perfect light neutrality.
The proprietary optical system has 13 lenses, delivering a 13-to-1 zoom ratio and zoom range of 4 to 52°.
Equipped with a 160mm frontal lens, Rivale Profile can produce an ultra-intensive beam of 4°, close to that of Ayrton's famous "LT" range.
Rivale Profile has adopted a brand-new high-definition progressive CMY colour-mixing system that delivers perfect colour reproduction as soon as the filter is inserted, regardless of the colour combination selected.
An extended progressive CTO lets you fine-tune the colour temperature from 2700K to 6500K, and a seven-position colour wheel completes the palette of tools dedicated to creating colour.
For greater flexibility of use, Rivale Profile allows subtle adjustment of the colour rendering index from 70 to 86.
The framing section permits accurate positioning of each shutter blade on a 100% surface area with a rotation of plus-or-minus 90°. A fast 15-blade iris diaphragm with an aperture range from 15-100% enables beam optimisation in Beam mode.
The image section of Rivale Profile includes 15 interchangeable high-definition glass gobos on two wheels: one rotating wheel with seven positions and one fixed wheel with eight positions.
The effect section is fitted with a monochromatic animation wheel, two combinable rotating prisms and two frost filters.
Its ergonomics have been completely redesigned with four highly integrated handles that make installation easy. In the ULTIMATE series, every detail counts.
Rivale Profile, a unique projector that boasts performance, creativity, subtlety and power, is the most versatile fixture created by Ayrton to date.