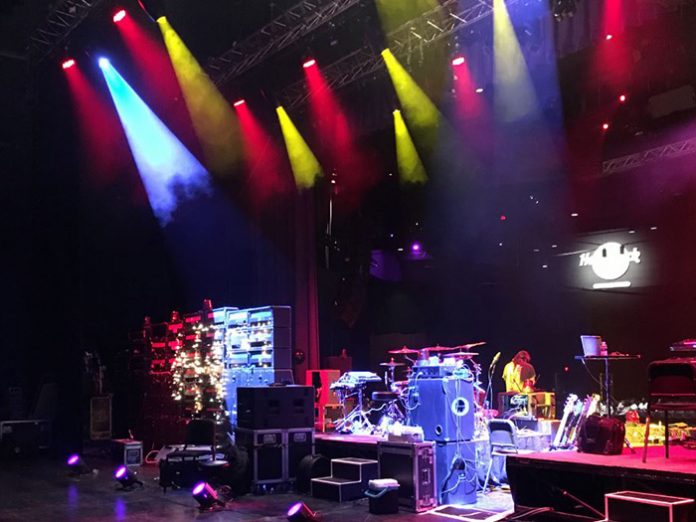 Hard Rock Hotel & Casino Atlantic City has installed 30 Ayrton Ghibli LED profile luminaires with framing shutters in its Sound Waves theatre. Full Production Services in Egg Harbor Township, New Jersey provided the fixtures, which are exclusively distributed in North America by ACT Lighting, Inc.
Sound Waves is a 1,500-seat venue that features stand-up comedy acts from Monday to Thursday, headline acts Friday and Saturday and production shows on Sunday. It has hosted Broadway shows, nationally-known headliners and corporate events since the hotel and casino opened in June 2018.
"The theatre had no intelligent lighting fixtures prior to adding the Ghibli fixtures," Entertainment Lead, Ben Lynford said. "The lighting rig consisted of incandescent PAR cans and lekos. Our goal was to create a flexible and capable LED house rig that could meet the needs of such a busy, multi-purpose venue. We needed a fixture with punch for a rock show and finesse for magic and theatrical shows. The Ghibli was brighter and more complete than any of the fixtures we looked at."
Four motorised electrics over the stage are trimmed at 23ft above the stage and two more in the house at 27ft and 25ft. A CAT5 network distributes data to fixtures over ArtNet from a grandMA2 at front-of-house. Twenty-six Ghibli profiles are hung from the electrics over the stage with four fixtures placed on the floor in various configurations according to the requirements of different shows.
"With many of the LED fixtures I've worked with there was a trade off that had to be made," Ben recalled. "Usually, the intensity of the beam wasn't as strong, the colour mixing wouldn't be great or the fixture didn't have shutters. But Ghibli is a great all-around fixture with strong output, great zoom and shutters."
Ben reported that the Ghibli units are "exceeding all expectations. We've had a year of heavy use, and the one issue that developed was easily corrected. When visiting lighting designers come through, they usually leave commenting on how impressed they are with the Ghiblis." He credits Production Manager, James Keaton, with helping to research the Ghibli fixtures and execute the design of the rig.