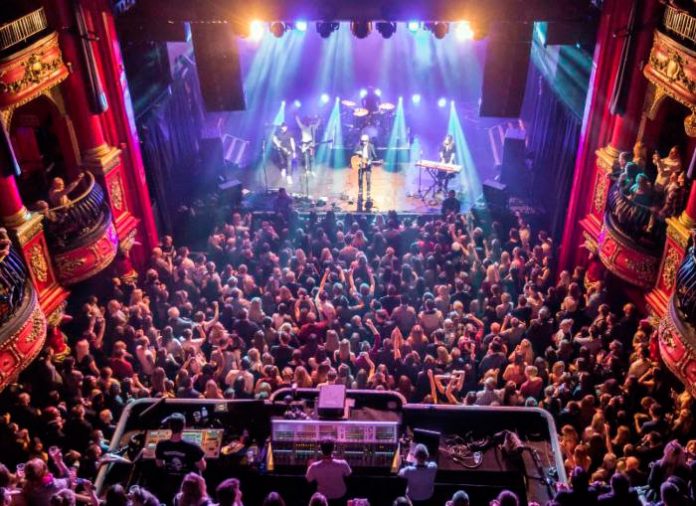 London's legendary live music venue KOKO has invested in an Avolites Arena console to offer more live lighting control than ever before for its impressive roster of bands.
Since the club's restoration and reopening in 2004, transforming it from the Camden Palace into KOKO, some of the music world's biggest names have performed in the space, including Madonna, Amy Winehouse and Red Hot Chilli Peppers. The venue continues to attract a diverse mix of emerging musicians and global superstars.
KOKO's Head of Lighting, Hannu Finnila, has been using Avolites consoles for more than 15 years and is now using the new Arena console on a nightly basis.
"The Arena console is the best desk for what we need to do at KOKO, because we have different bands in every night, meaning I have to do a lot of busking," he said. "As every gig is different, the Arena is already making my life much easier – the layout is easy to navigate and everything I need is within easy reach."
The Arena combines the popular interface of the Tiger Touch II with more control in the form of a second touch screen, in addition to the main, large display, offering an easy to read workspace window, and labelling the adjacent macro buttons and rotary pots. These fully assignable playback encoder pots allow intuitive control of channels and effects.
The console also comes packed with 40 faders, each with electronic legends, for speedy access to all playbacks, fixtures and palettes. An in-built managed network switch makes networking multiple devices, such as for visiting bands, simple and reliable.
"Many of the features of Titan are really useful, too, such as the Key Frame Shapes function, which allows me to create interesting effects from scratch, fast," added Finnila.
Inside KOKO, Finnila's rig includes Robe Pointe, Martin Atomic Strobe and Chauvet Rogue R2 Wash and Spot fixtures.
Mike Hamer, Operations Manager at KOKO, continued: "As one of London's premier live music venues, it goes without saying that we want to ensure that each performance looks fantastic. Photos of artists playing at KOKO appear in both the mainstream and music press and, of course, all over social media. We are very happy with our upgrade to the Avolites Arena, which is helping Hannu create eye-catching lighting designs every night."