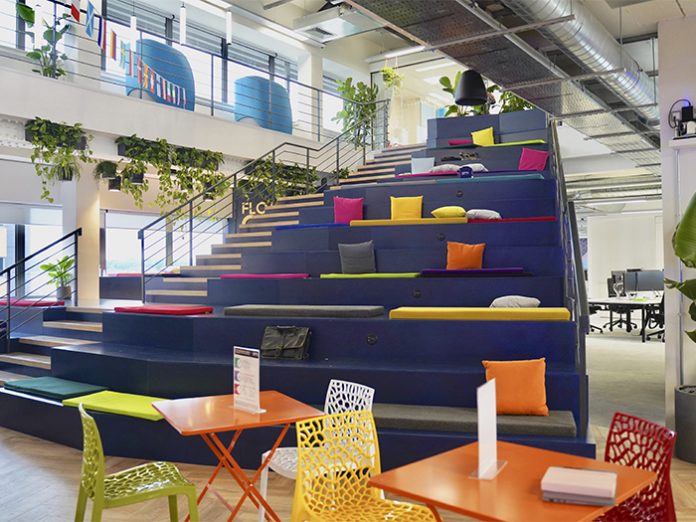 Audiologic in partnership with Handy AV, delivered a state-of-the-art audio system for GAMA Healthcare's brand-new office space, from concept and design through to completion.
GAMA Healthcare, a company founded in 2004, is a leading supplier of disinfectant products to hospitals around the world. They are a dynamic, innovative company at the forefront of infection prevention technology. They specialise in the manufacture and distribution of revolutionary IPC products and the provision of exceptional aftercare support.
In order to support their rapid growth, GAMA have recently invested in a revolutionary office space, known as their new 'Infection Prevention Solution Super Hub' headquarters, located in the centre of Hemel Hempstead's business district. The space has been designed from the ground up with modern working in mind, utilising the latest in AV Technology.
Handy AV, an audio-visual equipment supplier, was approached by GAMA Healthcare about the project, commissioning them to design and install audiovisual equipment for their entire new office space. Audiologic was asked to look at the spatial and audio design element of the project, seeing the project through from concept to completion.
Audio was at the forefront of what GAMA wanted to achieve with the project, both in terms of quality and flexibility. The higher value spaces, such as the boardroom and the central hub, needed to be aesthetically pleasing to be in keeping with the rest of the building, as well as servicing the purpose of delivering easy communication for participants both in the room and remote.
Guy Braverman, Co-Founder and CEO, GAMA Healthcare comments: "We wanted a large central hub so that we could host the full company for important updates and town hall meetings. Critical to that was to have the best technology, both for video conferencing, as well as amazing audio. I have been to so many office spaces that have tinny audio and you are unable to hear people. We wanted the best microphone systems so that we could have presenters standing at the podium at the bottom presenting to people on the staircase and also the balcony. It feels like we are all together in the same room, I am really impressed with all of the technology."
Ben Spurgeon, Senior Application Engineer, Audiologic commented: "The whole space is built around the Q-SYS Eco-System, more specifically, a redundant pair of QSC Core 510i's which are monitored and managed by the QSC Reflect platform. Designed as a fully networked solution, each space has dedicated networked hardware utilising both Q-LAN and Dante audio over IP protocols. This makes both scalability and flexibility incredibly easy. The main space, which doubles up as a town hall meeting environment, features a dual projection system and voice reinforcement, all controlled by an incredibly intuitive Q-SYS UCI on a TSC-80W-G2 touchscreen. The entire control environment also lives within the Q-SYS platform, without any additional hardware, this makes the programming incredibly easy by opting for IP controllable devices throughout the building.
Within the townhall space we have used the Sound Tube IPD pendants, which are both PoE and Dante, making single cable deployment simple. The space also has a fully functioning hospital environment which allows for in-depth training both in person and remote. Here, we are using VC hardware alongside wireless camera streaming to give an incredibly interactive experience. We also have a more traditional boardroom and divisible training space which can be used for in-room video conferencing and bring your own device functionality for maximum flexibility. These spaces utilise the Shure MXA910 beamforming array microphone for audio capture as well as the Shure MXW wireless microphones."
A building this smart required a comprehensive management platform allowing for real time visibility and remote access whenever required. Ben Spurgeon continues: "QSC Reflect Enterprise Manager allows us to access and update the designs, operate UCI's and support the system without ever needing to send an engineer to site. The real time alerts mean we can be incredibly proactive with our support and ensure there is minimal downtime for the end user. By opting for a fully networked approach it made scalability and control simple by adding on the cloud management platform, it gave us all of the off-site access we need to properly support a system."
"We are so lucky that we used a great company to give advice about the best technology.. Hybrid working is really helped now by the amazing technology behind it." Says Guy Braverman, Co-Founder and CEO, GAMA Healthcare.
Ben Oram, Chief Technology Officer, Handy AV: "Working with Audiologic has been great from start to finish, I couldn't recommend them highly enough. They came on site with us to do the initial site survey and saw the project through to the commissioning and completion of the project."