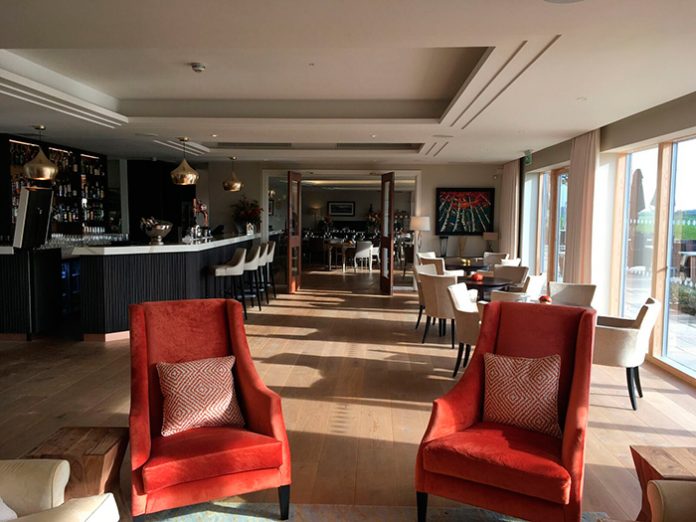 Centurion Club, near St Albans in Hertfordshire, is a recently developed private golf facility managed by the internationally successful Troon Golf company. Set in idyllic surroundings, no expense has been spared in creating a stunning facility with a rapidly growing membership that reflects its undoubted commitment to excellence.
Centurion is run by a forward-thinking team whose attention to detail is an essential aspect of creating and maintaining the highest standards both on and off the course. Away from the course itself, the club building offers a wide range of services including bar and restaurant, as well as private rooms for banqueting, conferencing and meetings.
Consistent with Centurion's approach to offering its patrons the highest possible quality, its management team consulted with Audiologic and integrators CDEC over provision for an audio system with zonal capabilities in separate areas across two floors. The ground floor area at Centurion has three meeting rooms which can be opened up into one large space, so flexible provision was essential. The system would include a facility for music playback as well relaying audio from a large screen TV throughout the main bar area.
Audiologic recommended an Ecler system to meet the requirements. Forty four Ecler IC6 Class 54 premium ceiling speakers (EN 54 compliant) were fitted throughout. These 2-way loudspeakers combine carefully selected components with efficient mechanical design to produce very high quality audio that can be described as genuine 'Hi-Fidelity' profile sound. Powered by two HZA4-70F and one HZA4-120F amplifiers, signals were channelled via two Ecler (8 in/8 out) MIMO88 installation digital matrix, linked together to become a sixteen 16 matrix, enabling any input to be routed to any output. Ten Ecler WPmVOL-SR Remote Source and Volume controls facilitated local control in each designated zone.
The system included provision for the introduction of microphone paging should it be required in the future and an Ecler Dual Media Player provided a sound source for FM radio, CD drive, USB slot and SD Card readers. To ensure that every possible audio application was covered, Audiologic supplied ILive handheld and lapel wireless microphone systems by AMC. All signal, speaker and Cat5 cabling was supplied by Audiologic.
CDEC worked closely with Audiologic, consulting over every aspect of the scheme to ensure that the system could be used to the best possible effect. This co-operation proved essential and highly effective in the face of delays in the building programme. Changes to the scheme dictated by elements of the build were established smoothly without any audio compromise.
Derek Pyle, Special Projects Manager for CDEC offered a very positive view of the outcome: "The Centurion project was concluded to the great satisfaction of the client. The install was held up by delays on the construction side of things but it didn't affect the outcome in respect of the audio system. Audiologic were always on hand to deal with issues arising and their expertise and attention to detail was invaluable in achieving great results".
Dave Smith, Business Development Manager at Audiologic added: "Working closely with CDEC on this project meant that in spite of occasional delays owing to building work, the end result comfortably meets Centurion's requirements. It's important to Audiologic to take the time to ensure that our customers can deliver the most effective and appropriate solutions and the Ecler products were the perfect fit. Centurion needed a flexible, efficient and easy to operate audio provision and that is now exactly what they have".