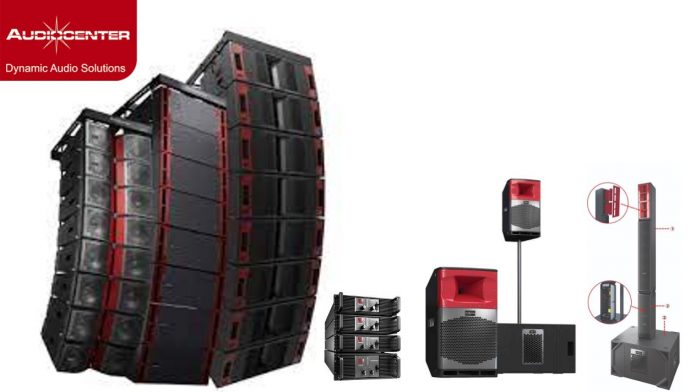 Since making its entry into the Indian market in the early-mid 2010's, Audiocenter has consistently built its user-base across the country with the brand recording consistent sales figures in key application segments such as live sound, portable sound reinforcement and install sound.
And with the intention to keep improving on its positive momentum, the brand recently announced New-Delhi based Aerons India, as their exclusive national distributor in India. 
The partnership agreement heralds Aerons India with exclusive rights of to distribute Audiocenter's entire portfolio of products, technologies and solutions to users all over India through its vast network of dealers, sub-dealers and channel-partners.
Established in 1962, Aerons forayed into the professional audio industry in 2008; with a steadfast focus on delivering value for money products, technologies and solutions to industry users, and further reinforcing the customer experience with an unparalleled after sales service. 
And over the years, Aerons has played a vital role in the overall growth of the nationwide sales-distribution ecosystem responsible for connecting users with their desired professional entertainment technologies and products. 
"Aerons has a rich legacy within the Indian pro audio industry dynamic; and the kind of impact that the company has had on all the vertical markets that Audiocenter is present in, is undeniable," said Simon Qiu, Sales and Marketing Manager of Audiocenter. "These segments include live sound, portable sound and install sound; and we recognise the fact that Aerons shares a strong connection with industry experts in these verticals from all over the country. 
"We are proud to be working with such an established distributor with such a rich history in professional audio; and feel that this partnership comes at the perfect time, as our portfolio has expanded to now include diverse products and technologies that offer precision, versatility and high quality performance to meet the needs of a larger user demographic. 
"It is therefore gratifying for us to know that Aerons will be drawing on its long history and strong relationships in the market to focus their efforts on the qualitative proliferation of Audiocenter products and technologies all over India." 
Focus on Indian Market
The inclusion of Audiocenter into Aerons' current distribution portfolio plays perfectly into the company's current focus for the Indian market, which emphasises a methodical approach towards building a strong nationwide distribution network with the perfect mix of products and technologies that appeal to a diverse user demographic.
Ankit Gupta, Director of Aerons India, said: "When we established Aerons India as a pro audio technologies distribution company in 2008, we did so with the goal of growing the presence of high-quality brands in the rapidly growing Indian market – the tier two, tier three, and tier four cities respectively – while reinforcing users in advanced metropolitan cities. 
"Over the years we have been able to work consistently towards achieving our goal, and we now aim to capitalise on the progress that we have made thus far. 
"We are absolutely honoured to be chosen as Audiocenter's exclusive distribution partners for India, and we are confident of augmenting their success and market position, with a focus on steady growth and enhanced customer experiences." 
The market shall have its first glimpse of the Audiocenter – Aerons India partnership in May at the PALM Expo, which is revered as India's only premier exposition for world-class professional entertainment technologies. 
Aerons India will be present on the exhibit floor with a booth that shall emphasise products from all the brands that Aerons India represents in the country.
"At the PALM Expo this year, we plan to emphasise the Aerons India – Audiocenter partnership in a big way. We plan to spotlight products from ranges like the L series, SA 3 series, MA series active speakers, K-LA Series Line Arrays and Pro series amplifiers – with the view to appeal to a wider audience profile," said Gupta. 
"Even though Aerons India is headquartered in New Delhi, we enjoy an extensive network of partners and teams all across the country that are well-equipped and adept enough to ensure that Audiocenter customers receive quick and efficient support, irrespective of which part of the country they're in. 
"Aerons India and Audiocenter will work closely together to ensure we offer top class support and only the highest level of customer experience to all Audiocenter users in India."