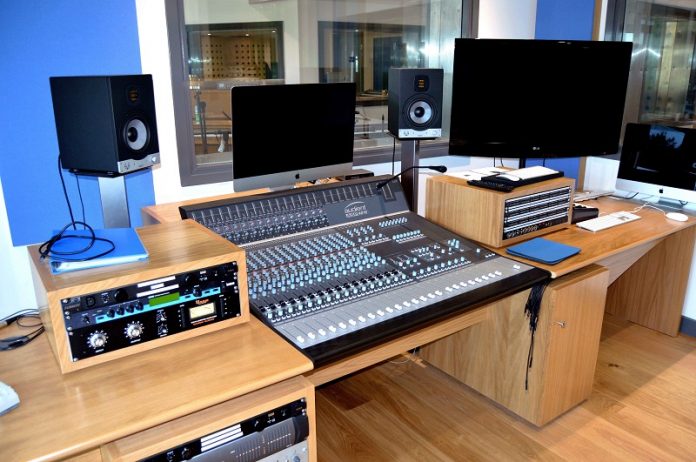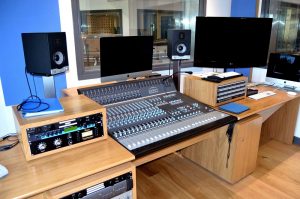 Boasting two brand new studios, fully kitted out with two Audient analogue mixing consoles, two iD22 audio interfaces and three 8-channel mic pre ASP880s, Kingston College's Creative Industries Centre was opened at the beginning of this academic year. As they advance into their second term, Music Technology instructor and studio technician, Chris Winter has noticed how the students have been enjoying the recent studio upgrade.
"They love using both the ASP4816 and progressing to the ASP8024 with Dual Layer Control," says Chris, pointing out that they find them "easy to understand and clearly laid out. They love that analogue sound, too." Whilst the desks are located in Studios 1 & 2 – the commercial and the primary teaching studio respectively – the outboard gear is predominantly used in the four production rooms that are linked to the rehearsal and live rooms.
"The students love the way iD22 allows you to assign a mic pre as talkback mic. The ASP880s are also really useful when you want to DI an instrument quickly." He continues with his own thoughts on the new Audient outboard gear: "The iD22s are so easy to use and have great, big console features. The ASP880 are amazing too, and really work well with the iD22s. The idea was that we have the same mic preamps across the facilities so there is continuity in the sound. And we love them!!"
Winter describes the new building that houses the studios as "…an amazing space. We are very lucky to have the opportunity to build industry standard studios to such a high specification, and work with great companies like The Studio People on getting wonderful sounding rooms that look fantastic too." Comprising a 3D workshop, TV studio, as well as a mixture of studios and classrooms designed to enhance the learning experience, the Creative Industries Centre is designed to encourage cross collaboration on projects with other courses taught at Kingston College. "The students love the studios' design with all that natural light; it has a big impact on their learning and creative flair," says Winter.
"We teach from Level 2 up to level 5 courses in Music Technology and Performance," he explains. "The great thing about these Audient desks is that for beginners right up to advanced users, they are easy to understand with no gimmicky features." Winter is very clear that teaching signal path to students is "…fundamental to their training. So many people have tried to teach 'in the box', but have reverted to analogue board as a physical piece of equipment that you can touch and see where the signal starts and ends up." Indeed all the new technology in the Creative Industries School helps with that. "Audient has high quality products that are easy to use and are at a professional level. We wanted our students and users to learn on industry standard equipment, so they can transfer their skills learnt at Kingston College straight through to employment."