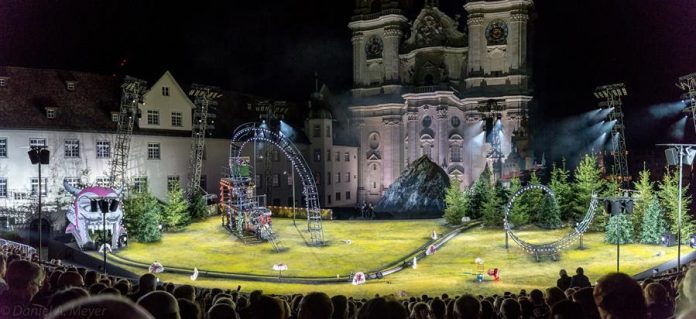 Astro Spatial Audio has again demonstrated the extraordinary potential of true object-based 3D audio and the incredible performer tracking accuracy of Stagetracker having broken new ground with a fully immersive outdoor opera produced by Switzerland's prestigious Theatre St. Gallen.
With its origins stretching back to the early 19th century, Theatre St. Gallen is widely considered to be the oldest professional theatre in Switzerland but despite its remarkable provenance, the theatre maintains an audio-visual infrastructure that is the very definition of contemporary. It was in this spirit that the company's production team recently decided to apply Astro Spatial Audio's true object-based immersive audio to a headline summer production.
Open-air performances of cornerstone theatrical and operatic works have long been a staple of the Theatre St. Gallen's busy annual schedule. This year it staged a version of Loreley, a three-act romantic opera written by Italian composer Alfredo Catalani in the 1880s. Yet, with the incorporation of Astro Spatial Audio's object-based technology, Head of Sound Dennis Schmidt who has been with the Theatre for a little over one year resolved to bring a fresh dimension to the latest production of this much-loved work.
"I had experimented with surround sound designs for a number of previous shows in my native Germany and felt that these could benefit this new production of Loreley," he explains. "I first heard about Astro Spatial Audio in 2016 and had kept track of the technology's development. When thinking about this latest production it occurred to me that it could help us to simulate the ambience of a big hall despite the production being outside, as well as increase the impact of vocal performances."
At the heart of the Astro Spatial Audio solution is the conversion of audio signals into audio objects. ASA's SARA II Premium Rendering Engine – a 3U road and rack ready processor offering up to 128 MADI or 128 Dante configurable network pathways at 48kHz/24-bit resolution utilises extensive metadata attached to each audio object. The result is a precise calculation of that object's position within virtual 3D space as well as that object's acoustic effect on the virtual space around it gifting the engineer a truly three-dimensional audio canvas on which to play.
At Theatre St. Gallen, the design also featured ASA's recently-introduced performer tracking system, Astro Spatial Tracking, based on the world-leading accuracy of the Stagetracker system, supplied for Loreley by 2M Audio. Developed to offer previously unseen degrees of precision and ultra-fast vector-based tracking in all three dimensions, Astro Spatial Tracking is the result of an exclusive collaboration between ASA and Norway's TTA – developer of the original Stagetracker system as well as the forthcoming Stagetracker II. Marketed worldwide through Astro Spatial Audio, Stagetracker integrates seamlessly with the SARA II Premium Rendering Engine, creating a unique powerful and quick to deploy solution for the production of Loreley.
"Theatre St. Gallen has previously experimented with the idea of creating an immersive outdoor experience but this year represented a remarkable step forward," explains Astro Spatial Audio Director Bjorn van Munster. "In 2016, it took two whole days to set up a channel based surround sound system. In 2017, using the SARA II and Stagetracker, it took less than an hour to create a more effective and impressive object-based solution."
Taking advantage of the SARA II's MADI connectivity, Schmidt assembled a notably high-end audio system including d&b audiotechnik loudspeakers for the main PA, front-fills, delays and surrounds; a Yamaha audio interface; and a Soundcraft Vi7000 mixing console, among other core equipment. He confirms that even on its inaugural outing at the Theatre St. Gallen, the audio team was "able to achieve some really impressive effects, in particular, relating to the tracking and panning of the singers which I think helped to give the vocal performances a more natural feeling for the audience. It was certainly much commented-upon."
With a 14-strong configuration of surround speakers, Schmidt was able to add to the drama of the performance by panning selected audio objects, the result being a series of shows that always felt very dynamically varied. "I think we got better and better results from the system as we went along and I am sure we will achieve something even more impressive next year. We also have the idea to add some overhead speakers and additional positions that will give us extra options and flexibility in the mixing." Even in this early phase, Schmidt says that the "feedback from the directors has been extremely positive. I think there is a general feeling that this is the future of audio for theatre and that it represents real progress in terms of the experience we can offer to our visitors."
He also acknowledges the support received throughout the project from the Astro Spatial Audio team led by Bjorn van Munster who says that 2017 is "Proving to be a very significant year for ASA in the theatrical environment, and the achievement with Loreley of bringing the environment of a concert hall into the open air is a very proud moment for us all. We believe that we have only just begun to demonstrate the extraordinary potential of true object-based audio and the seamless integration of our technology with the soon to be launched Stagetracker II, the world's most accurate performer tracking system. There is much more to come."