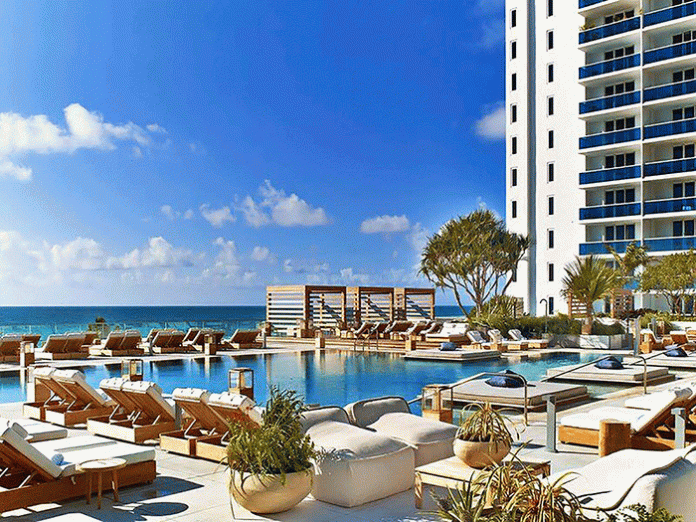 Guests of '1 Hotel South Beach' on Miami's most happening strip can expect detailed attention to all needs of their guests. Formerly known as the Gansevoort and, temporarily, as the Perry Hotel, '1 Hotel South Beach' features 334 hotel rooms, 255 condominiums, retail space, a full spa and gym, three outdoor swimming pools, multiple high-end restaurants and bars, and – perfect for big league parties – a massive rooftop pool and lounge and nearly 50,000 square-feet of private beach.
It is seventeen stories tall and provides guests with a 6,500 square-foot ballroom, junior ballroom, and thirteen breakout rooms. A massive audio system upgrade budgeted at $2 million of the total $100 million renovation that Starwood Capital invested to launch the new 1 Hotel South Beach brand. Easy, reliable Dante networking now connects twenty-three Ashly Pema combined matrix processors and multi-channel amplifiers, a strategy that combines the simplicity and efficiency of local power with system wide connectivity.
Tim Thorshov, Principal of Accolade (Allen, Texas) and the designer of all of 1 Hotel South Beach's new comprehensive low-voltage systems, including a brand new audio/video system commented: "The mixed use property is right on the beach but offers a vast array of amenities and venues for every occasion. It has a large conference centre and an abundance of outdoor spaces for parties. They possess the ability to source audio from anywhere on the property for use anywhere on the property; For example, when they have a party on the beach or in the ballroom, and they want to be able to pipe that music to the front of the building to draw the public into the event. It was the perfect opportunity to connect a massively distributed system using Dante."
Advance Home Theatre (Philadelphia, Pennsylvania and Fort Lauderdale, Florida) installed the new system at 1 Hotel South Beach.
The hotel's zones broadly consist of several tie-in points on the beach and at other outdoor areas around the hotel, including the front entrance, the rooftop pool and lounge, multiple public areas such as the lobby and various concourses, two ballrooms and thirteen meeting rooms (all appropriately separated), and the spa and fitness centre.
Using integrated Crestron 32×32 and 16×16 matrix control systems in the ballroom and meeting room spaces, the Dante network combined with the Ashly processors' routing logic allow the hotel staff the ability to select local music or music from any other zone. Ashly and Crestron controls, or Apple iPads, provide intuitive control, either with a Crestron app (meeting spaces) or Ashly's free, customisable remote app (everywhere else). The ballrooms and breakout meeting rooms are especially tightly integrated so that any combination of rooms can use any combination of audio inputs. The Crestron system includes control of lighting and LG/Samsung video systems. As a result, 1 Hotel South Beach can accommodate all manner of meetings and events.
Tim later added that the area also has several DJ tie-in points on the beach and continued with the following: "They're excited to spread that energy around the hotel complex from wherever events are happening, throughout the facility."
Twenty-three Ashly Pema multi-channel network amplifiers with built-in 8×8 Protea DSP provide localized power and processing. Ashly's new Series network Protea processors are equipped with Dante cards and act as the on- and off-ramp for the digital audio signal. The system includes 4- and 8-channel Pemas, with outputs of 125W or 250W per channel depending on the application.
A huge variety of indoor and outdoor, large form factor and small form factor loudspeakers are efficiently deployed near the local Pema amplifiers. These include JBL Control 16T and 19T coaxial ceiling loudspeakers, Sonance VP82R coaxial ceiling loudspeakers, One Systems 108 Marine Series weather-resistant, ocean-environment-ready outdoor loudspeakers, and Sonance Sonarray landscape loudspeakers.
Tim also stated that, apart from the minimal-cabling and outstanding control benefits, using Dante to distribute sound allowed us to put the amps with the speakers. That's obviously more efficient and better sounding than using a central amp location with long speaker runs.
Tim provided concluding comments: "Implementing the system with Ashly Pema combined processors and multi-channels amps was definitely the right way to go. I love the sound and functionality of Ashly's processing, and getting that kind of comprehensive matrix processing and high-powered, multi-channel amplification in a two-unit rack space at a competitive price simplified things budget-wise and logistically. On top of all that, Ashly's product support is the best I've experienced in the industry, and that was especially appreciated for this job. There were a lot of last-minute decisions and reversals, which meant getting the right products was a moving target. Ashly worked with us and made it all happen on time!"