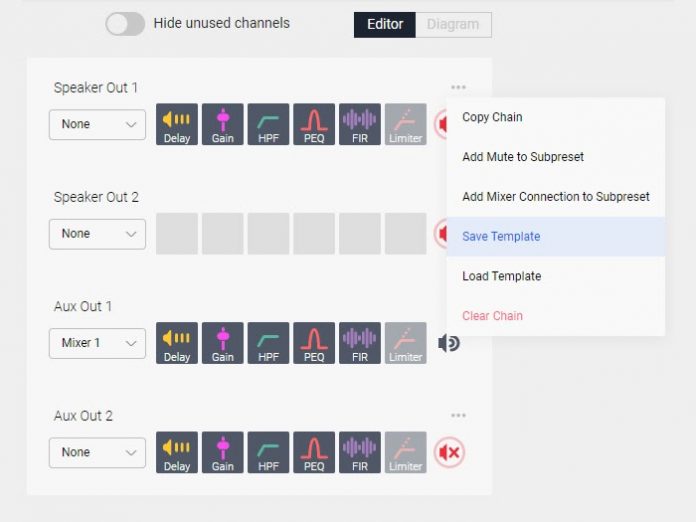 Ashly Audio has launched the first major update to its new AquaControl software suite. Among the new changes are templates, additional filter types, and link groups – and they are all provided free of charge.
The new features are the result of sustained partner feedback and focus on adding capabilities that allow for more efficient and effective integrations.
"Part of the promise when we introduced AquaControl and the mXa-1502 processors has been that we are developing a platform for our solutions that will continue to make integrators' lives easier, system set-up faster, and overall sound quality better," said Noel Larson, Vice President of Marketing and Business Development at Ashly Audio. "This update to our new AquaControl software does just that. It improves integrations for all, at no cost to the customer. We look forward to even more enhancements in the future."
Template capabilities allow for Mic/Line Input, Stereo Input, and Output DSP signal chain configurations to be stored and imported into other AquaControl-capable devices. This allows for successful integration setups to be saved and recalled in future installations.
"These saved templates are available through a simple options menu above each channel's signal chain in AquaControl," said Dan Szaba, Director of Engineering at Ashly Audio. "They can also be accessed in the new templates manager tab. We've made it so the navigation and organization of templates is as intuitive and powerful as possible, as this has the capability to greatly improve installation times."
Eight new filter types for crossovers, HPF and LPF have been added to the software, including: Bessel 5th-order (30dB/octave), Bessel 6th-order (36dB/octave), Bessel 7th-order (42dB/octave), Butterworth 1st-order (6dB/octave), Butterworth 5th-order (30dB/octave), Butterworth 6th-order (36dB/octave), Butterworth 7th-order (42dB/octave) and Linkwitz-Riley 6th-order (36dB/octave).
"The additional filter types allow for more choices for blending speakers together and brings more precise control of the system frequency response," Dan said. "We've added more slopes (db/octave) per each popular alignment type, including Bessel, Butterworth, and Linkwitz-Riley."
The Link Groups feature allows users to link DSP functions across channels – a helpful feature when setting up stereo or multi zone systems.
"Link groups allow any instance of a given DSP function to track the settings of any other instance of that function type," Dan said. "The thing that sets our DSP apart is we aren't drag-and-drop in the software where you have to spend hours configuring it. We set ours up in 'blocks' where you can quickly hot plug DSP algorithms in any order in the signal chain, with no need to compile or wait for any code to download. This is another feature that improves integration times."
To download Ashly Audio's new AquaControl software, visit: www.ashly.com/mxa1502/ and navigate to the "downloads" section.