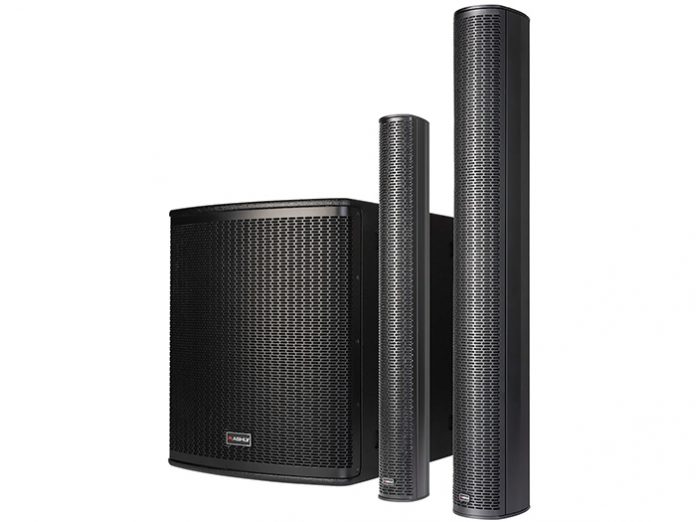 The Ashly Audio promise to offer a complete, end-to-end pro audio solution – from amplification to speaker – is fulfilled: the company is now shipping its two newest product lines, the AW Series and IS Series speakers.
"We introduced the speakers earlier this year as a response to the feedback we received from our integration partners," said Noel Larson, Vice President of Marketing and Business Development at Ashly Audio. "They were seeking a more complete and integrated solution, which included speakers. That feedback has proven to be extremely valuable as we now see businesses – from retail and restaurants, to houses of worship, to schools – seeking ways to effectively and affordably expand their audio offerings in an effort to safely reopen their doors."
The speaker lineup is extremely versatile – designed to work as standard on wall speakers, or in eave/overhang placement, with options starting at $99 per pair. Further, when combined with Ashly amplifiers and DSP, the speakers work to create an advanced audio experience.
"Adding speakers is going to be critical as we seek for ways to more effectively serve individuals – be it in a business or a school – while maintaining safe social distancing in the months to come," Noel said. "We are now shipping key products in our total solution that will add audio to more locations, for organizations of all type and size."
Ashly Audio's AW Series speakers provide on-wall speaker solutions for installations where intelligibility of both speech and music are crucial to the customer experience. Designed by Ashly engineers to take full advantage of Protēa and AquaControl™ DSP, the AW series with a unique DOC crossover reduces the off-axis deviation in sound pressure levels to <9db. This provides a wider "sweet spot" for audio and allows for robust bass, crisp treble and an accurate midrange.
Highly efficient and durable, the AW Series completes the total Ashly solution with the widest, most consistent coverage available in a small on-wall speaker.
Ashly Audio's IS column speakers provide an extreme level of flexibility for integrators by operating at 8 or 32 Ohms, making them effective for simple applications or allowing larger numbers to be used in distributed installations – up to 32 IS Column speakers can be run off a single Ashly PEMA or CA four channel amplifier. The IS Series delivers precise vertical dispersion and consistent sound levels front-to-back in virtually any type of venue.
Get the most out of the IS Series when combining with Ashly amps and processors that incorporate Protēa or AquaControl™ DSP, achieving even wider frequency range with improved audio intelligibility at any scale. With the IS Series' elegant form factor you have a solution that fits perfectly in multiple locations, including next to flat-screens in conference rooms or houses of worship. The SP-12.1P subwoofer provides an extended low end and offers a portable "system-on-a-stick" configuration solution.