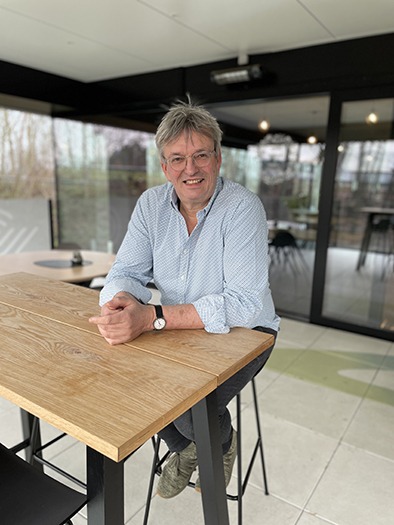 There has been plenty of industry buzz about your new CloudPower installation amplifiers. What made you decide to bring a new product into that part of the market?
Paul: We've been developing our expertise in Class-D amplifiers for quite some time, but the real catalyst was bringing Nand Eeckhout into the R&D team. Nand is a true amplification genius; he started his career at Phillips Semiconductor and worked for another leading Class-D amplifier brand, learning from the best in the field. The development of CloudPower was led by Nand and our R&D Director, Hendrik-Jan Gielis. Hendrik has a unique gift for user interfaces and for approaching familiar products in completely new ways. Put those two together and you get something very special. Let's face it, there are plenty of four channel installation amplifiers out there, so to make your mark you need to do something genuinely different and exciting. We showed the initial concept at ISE in February and received a lot of enthusiastic feedback, as well as some great suggestions that made the finished product even better.
CloudPower amplifiers are among the first to allow control over the cloud. What is this going to mean for the customer?
Paul: Well, for integrators it's going to mean fewer callouts and less hassle. There's also the option for them to offer value-added remote monitoring services to give their clients peace of mind. I have to say that the team has done a fantastic job with the IntelliCloud remote-control WebUI. It's all browser based, so there's no bloatware to download and it works beautifully on any device, letting you check on the amplifiers anytime, anywhere. There's a lot more to CloudPower than the remote-control capability though. That's partly down to the decision to build it on a Linux processor rather than a standard microprocessor, which gives us masses of power and flexibility to think beyond what the traditional amplifier can do. Perhaps the most striking example is the internal audio source, which lets you stream audio direct to the amplifier from your device. There's plenty of headroom for future development, too. CloudPower is also a highly efficient design. When they're in idle mode, CP354 and CP704 consume less than half the power you'd expect from most traditional Class-D products.
The marketing for CloudPower talks about GlidePath architecture. What do you mean by that?
Paul: In typical Class-D amplifiers you'll find that the amplifier and DSP circuits are separate. GlidePath integrates the two, resulting in very significant improvements in audio quality. We've tested CloudPower head-to-head with the industry standard products and we can clearly measure and demonstrate the difference. We have a white paper you can download to see the measurements. But we're not just talking about a theoretical advantage that you can only perceive in the lab – you can clearly hear the difference, even at low levels. We've invited some of the best ears in the industry to listen to the product, as well as people who know nothing about audio, and they can all appreciate the benefits. We actually got really curious about exactly why we were seeing such strong results, and a lot of the answer comes down to cone excursion: the effect that the amplifier is having on the behaviour of the loudspeakers. Without getting too technical, we achieve a higher output under a short initial impulse and the cone stops moving much sooner after the signal stops. So there's less distortion, the low end is tighter, there's tremendous clarity in the low-mids and the audio seems louder than it really is, meaning you can keep levels down and consume less power. Plus your loudspeakers are going to last longer because they're experiencing less unnecessary mechanical wear.
2020 has been a year that many of us would rather forget. What is APEX looking forward to in 2021?
Paul: Without giving away too much, the R&D team is hard at work on some exciting new installation and AV products that will build on the success we're enjoying with CloudPower. Plus you'll see more CloudPower models added to the range. In the meantime, we're focussing on developing and strengthening our global distribution network to make sure our customers have a great experience with CloudPower. We're also continuing to identify and develop new market segments where our LIVIAU all-in-one audio, video and lighting system can really help to simplify the user experience. If that's not enough to keep us busy, we're also talking to a number of speaker brands about our OEM amplifier solutions.
This interview first appeared in issue 31.2 of mondo*dr. Read in full below –