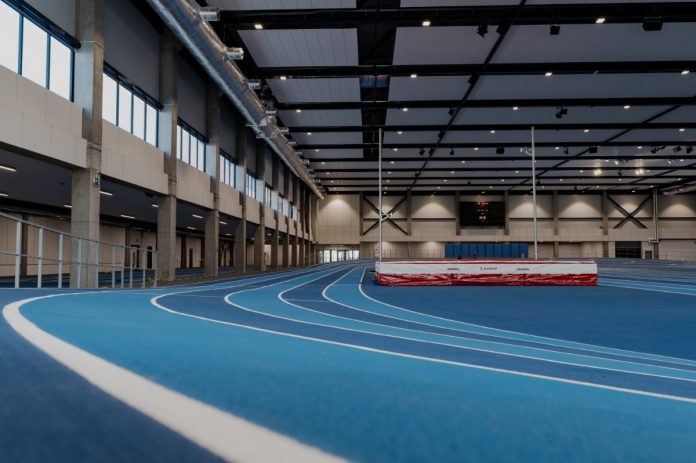 APEX CloudPower amplifiers have been installed as part of a complete audio system for the new KGHM Ślęza Arena in Wrocław, Poland.
The 11,000m2 multi-purpose sports hall was built on land belonging to the 1st Sports Club Ślęza Wrocław and rivals the best indoor athletics venues in Europe.
Facilities include a six-lane 200m running track, an eight-lane 60m track and a six-lane warm-up track. Athletes also enjoy access to dedicated long jump, high jump, and pole-vaulting areas, plus a nationally significant indoor long-throwing facility.
The hall space can be divided and used for both athletics and team sports training. Up to 1,500 fans can follow league matches of team sports held on the mobile basketball court.
Strabag was the general contractor responsible for the design and build of the arena. Leading audio equipment distributor, Tommex was subcontracted to design, install and commission an audio system reflecting the prestige of the project.  RCF Compact M series loudspeakers were deployed throughout the Ślęza Arena, with Compact M 12 cabinets and Compact M 10 subs supplemented by Compact M 08 and M 05 boxes to provide even coverage in every corner of the venue.
The loudspeakers are powered by APEX CloudPower amplifiers, including CP1504D, CP704D and CP354D units. All the amplifiers feature integral Dante networking and deliver between four 350W and four 1500W. 
"For KGHM Ślęza Arena we worked with products that we know well, and which have proved their audio performance and reliability on other installations," commented Tommex Key Account Manager, Tomasz Lulkiewicz.
"We have used the APEX CloudPower amplifiers on several prestige projects and we have been impressed by their clear, precise sound reproduction. Selecting CloudPower models with integral Dante made it easy to integrate them with the network and the IntelliCloud software helps to reduce setup times."
Sources are routed to the amplifiers via a Yamaha MTX5-D 36 16 matrix processor, with user-friendly control provided by both a wall-mounted DCP4V4S control panel and an iPad running Yamaha's ProVisionaire Touch application.
Presets allow easy reconfiguration of the audio system to accommodate different sporting events and the system can be controlled from multiple locations as required. A Dante network ensures low-latency transmission of audio throughout the venue.  
Tommex also equipped KGHM Ślęza Arena with a professional, mobile commentary system, centred around a compact Midas M32R LIVE console and augmented by a Klark Teknik DN32 interface and Sennheiser G4 100 series wireless microphones.
The commentary station can be used in the control room or connected to the main PA system via floor boxes located around the venue, allowing commentators to stay close to the sporting action.
  KGHM Ślęza Arena was built at a cost of PLN 66 million and was created thanks to the cooperation of 1 Ślęza Wrocław Sports Club, the Polish and Lower Silesian Athletics Association and funds from the Ministry of Sport and Tourism, the Municipality of Wrocław and the Marshal's Office of the Lower Silesian Voivodeship.
The hall is named after its main sponsor, mining company KGHM Polska Miedź.