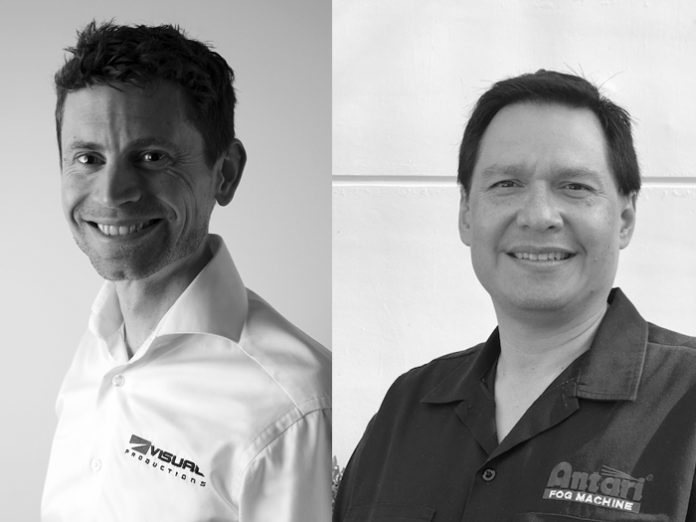 Antari USA, leading global manufacturer of atmospheric special effects, announced that as of the beginning of June, they will become the exclusive United States distributor of Visual Productions BV, a leading European manufacturer of lighting control for entertainment and architectural applications. The Visual Productions product line includes architectural lighting control systems designed for permanent installations in hospitality, retail, museums, theme parks and cruise ships. The ease of operation and the incorporated communication technologies make these lighting controllers ideal for system integration.
Ray Villasenor, General Manager Antari Lighting and Effects USA said: "We are excited to bring these cutting edge products to the United States, they are a perfect complement to our product line." Maarten Engels, Managing Director of Visual Productions stated: "With their nationwide sales network Antari will provide Visual Productions with a great platform for raising the brand awareness in the US. I am very excited about the new cooperation with Antari USA. This is just the kind of partnership we need in order to take this successful European brand into the US lighting industry. It will be our pleasure to work together with the experienced team at Antari to support the lighting controllers going into the hands of the entertainment and architectural professionals."
Since 1984, Antari has been a leading global manufacturer, specializing in atmospheric special effects, like fog, haze, snow and lighting for a wide range of productions, including live and broadcast venues, festivals, corporate events, theatre, concerts, clubs, theme parks, architainment, and houses of worship. Antari products are also widely used in residential and commercial security, pest control, industrial humidity control, horticultural uses, hospital sterilization, and leak detection. Antari has always pursued the perfect fog, with some of the most stringent quality control standards in the entertainment production industry. Antari's R&D expertise includes an in-house team of engineers and designers, along with modern production facilities, and strict attention to detail. Antari products are designed and manufactured to conform to all international safety standards including CE, LVD, and EMC.
Visual Productions, founded in 1999, is a privately owned company located in the Netherlands, providing software and hardware technology for the entertainment and architectural lighting industries. The current portfolio consist of various high-tech, in-house developed, control solutions for LED, architectural and stage lighting equipment. The software applications and hardware devices are designed with a strong emphasis on usability, resulting in feature-rich and user-friendly lighting control products that are rapidly becoming the preferential choice in the market.