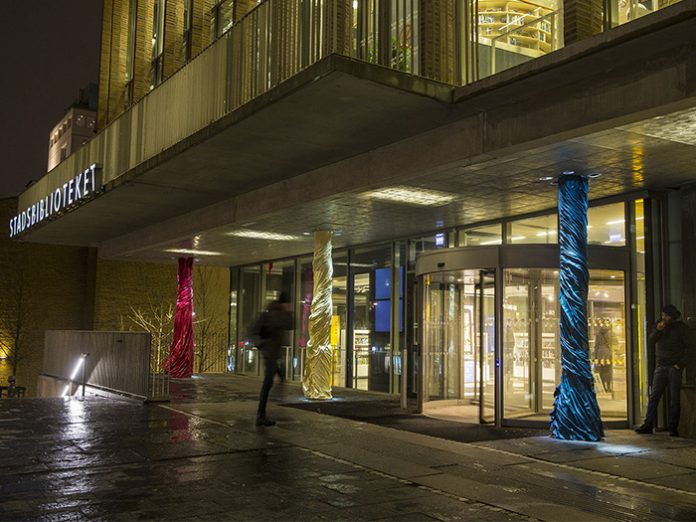 Swedish freelance lighting designer Niklas Pohlman specifies Anolis ArcSource 4 MCs LED fixtures to illuminate three pillars covered with a bronze fabric effect created by sculptor Yvonne Thornqvist outside the Göteborgs Stadsbibliotek (Gothenburg City Library).
The bronze treatment is a wrap of the pavement-to-first floor level sections of three concrete structural pillars running through the front of the building, which is one of the busiest public facilities in the city. Fulfilling many roles, the library is a hub for literary vibrancy and learning, a meeting place and a lively community and social space.
The columns have a paint finish which is unusual for bronze, and because they are in the shadows of the first floor overhang above the entranceway, the artist was particularly keen that they were lit and therefore able to be enjoyed and appreciated after dark.
Each pillar is highlighted with five ArcSource 4MC units, which are concealed in the false roof void immediately above that has been added to stop birds congregating.
"Lighting can add real character and depth to sculptural elements like this," Niklas commented, explaining that Yvonne's brief was to make the texture of the fabric stand out "as well as to introduce a very slow and subtle – barely perceptible – movement" to the bronze fabric which is suggested and accented by the Anolis products.
Originally, the installation didn't involve lighting, but it was added when it became apparent that this would trigger a whole new dimension to the work. It was Niklas's idea to add the kinetic movement. On two of the pillars this slow fading chase progresses in a clockwise direction, and anti-clockwise in the third.
It was the first time that Niklas had used Anolis fixtures in his work. He sought a flexible, reliable small fixture with a bright output that was easy to install and Anolis ticked all the boxes. The units are RGBW, so the colours can be changed for special occasions. For the standard installation each pillar has its own bespoke signature hue, which slowly creeps around the surface of the column.